As wood sign makers we encounter many scenarios in our wood shop than we can consider challenges. Some of them we anticipate and some we don't. I thought I would address the most prevalent ones which would impact the majority of the wood shops for wood sign design and creation.
Wood shop challenges can be complicated to simple. You need to approach your wood shop from mainly a purpose perspective, such as what type of wood signs are you creating and what do you basically need. Due to limited space and budget you may need to grow slowly, look at your wood shop the same way.
Where do you start when you approach the challenges with your wood sign making wood shop. My wood sign business wood shop started with a small bench and grew from there. You will always need to evaluate the space, tools and budget which will work for you.
---
---
1. Limited Shop Space Or Awkward Shop Space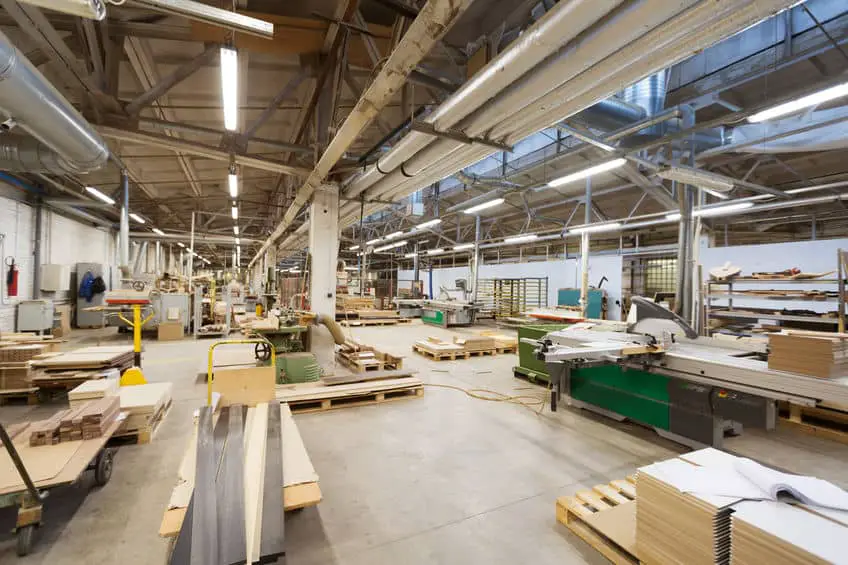 Not everyone has a wood shop for making wood signs which is extremely large. Of course that would be a dream for most of us due to the space available and possibilities of what you can create. Then you have the opposite which where most of us are and common, with limited space such as a basement, garage or even a small shed.
The importance here is to acknowledge the limited space and what you can do to make wood signs. You have your tools and supplies where do you put them? What is the best from a safety perspective? You don't want to be so squeezed that you can't turn around or you are constantly stepping over things.
The solution to a small work shop for making wood signs is to organize your wood shop with compact tools and supplies which will fold up and/or be placed in an organized fashion on the wall. This allows you to utilize the space for dual purposes and also forces you to clean up after your wood sign carvings and finish work.
Mobile carts, tools and workbenches also are a great idea for being able to compact your wood shop and your wood sign creation tools. The key is to identify your space and make the most of it even if you are bringing out each tool as you step through your wood sign creation process.
Flow in a wood shop is very important and also the ability to work safely. The video below provides great ideas for your small space wood shop.
---
2. Lighting – What is the best lighting for a woodworking shop?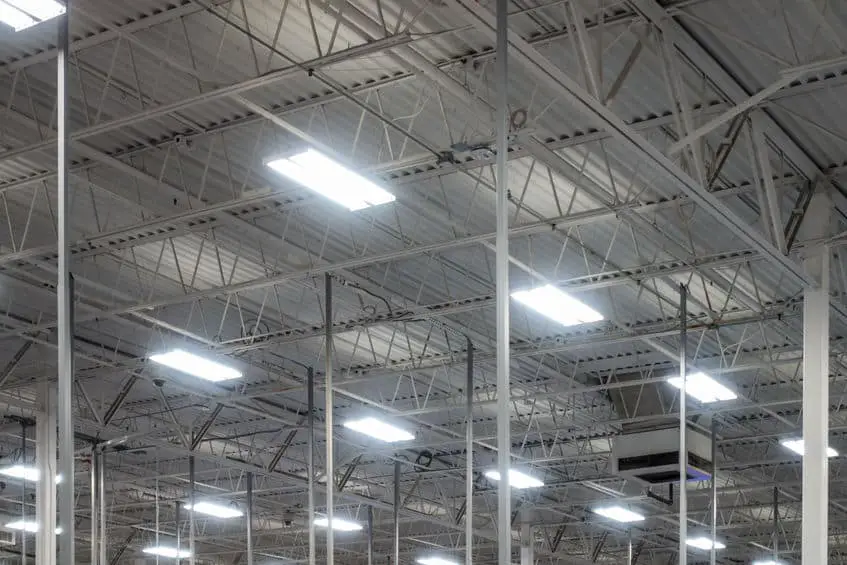 When working in a wood shop for making wood signs or any wood shop lighting is crucial. The reason it is crucial is from a safety perspective, eye strain and overall operation of your wood shop tools.
Safety of course is critical due to all of the possible hazards in your wood shop. Tools, walking between your tools such as saws, hoses from dust collection on the floor, and also the safe operation of your tools.
It is also key from the perspective of eye strain. A well lit wood shop will allow you to see the saw blades more clearly as well a measure marks and how your wood sign product looks during the process of making them.
In the recent years the florescent light has taken a back seat the new LED lighting. LED is more efficient from a power perspective and provides a better range of lighting. Additionally, LED lighting has decreased in price to make them more affordable.
Depending on the environment your wood shop is in a garage, shed or even a basement lighting is very important. LED provides many configurations which will benefit you. The options include chaining many of them together for one circuit as well direct hardware or plug options.
What kind of light is best for your wood shop? Not getting into the great detail of the light spectrum, the best answer is a combination of natural light and LED's. When looking at your LED lighting options look for around 5000 kelvin. This is a happy medium which allow for a bright enough light to see the details but not enough to be really bright and annoy you.
You may also look for placement of the lights to benefit you. Two considerations are paramount, Shop layout and Shop Dimensions. The perfect combination.
If you are looking for a good calculator for the number of lumens here is a free calculator – LUMENS/WATT CALCULATOR
To see a great example of what to consider and what to do for re-configuring your wood shop lighting I provided the below video.
If you are looking for in-depth information for lighting your wood shop take a look at our post "Avoid Mistakes – The Best Wood Shop Lighting Ideas"
---
3. Dust Collection – What's the best dust collector for a small shop?
If you have a wood shop you will eventually need a dust collection system. Why do you ask? A dust collection system is an air quality system to remove dust particles from the air when you are sanding, cutting and producing wood signs.
Wood Dust collection systems can categorized into several large and fine particles. The biggest volume of dust are the large particles. This is reflected by the dust from routing edges, CNC and saws for example. A good dust collection system connects by way of a duct or hose system connected to your tools removes the dust to a dust collector which you can dispose of by way of air flow.
There are many types of dust collection systems on the market and choosing the best one for your wood shop can be a challenging effort. To help with the choice of a dust collection system we need to consider your requirements.
First consider what tools you have in your wood shop which you will want to connect to the dust collection system. What CFM (Cubic Feet Per Minute) will you need to remove dust. Each tool has a specific CFM and you will need to have enough CFM in the dust collection system to totally remove the dust to the collector.
Next you need to be aware of static pressure (SP) which can be created in the dust collection system by the friction. Static pressure can greatly impact the ability of your dust collection system. A good way to relieve the static pressure is to not incorporate a lot of elbows or 90 degree turns in your duct system.
Diagram your wood sign shop and floor space. This diagram will show each of your tools, workspace and size of your woodworking tools. This will help you design and plan your dust collection system, duct work and size. It will be the main focus of your dust collection system design to help you design your system with the least about of 90 degree turns and bends in your duct work.
*Note: you may also want to look at expansion, keep in mind you may need to upgrade but if you plan ahead of time it will save time and money.
Woodworking dust for wood sign creation will need 4500 (Velocity in Branches ) FPM in the ducts typically. This is important to note as you will need to determine the size of your ducts.
You will need also to identify your primary wood tools. Typically these woodworking tools work or are operating at the same time. It is important to know this when designing your dust collection duct size.
Lastly you will need to consider maintenance. Where you place your duct work and dust collection system needs to be accessible so you can clean and change out your collection bags.
I you would like to know a little more about a dust collection system for a small wood shop take a look at the below video.
---
If you are looking for in-depth information for dust collection in your wood shop take a look at our post "What's The Best Dust Collector For A Small Shop"
---
If you would like to see what products I'm using and purchase you can see my recommended products here – "Recommended Products"
4. Woodworking Tools Maintenance And Organization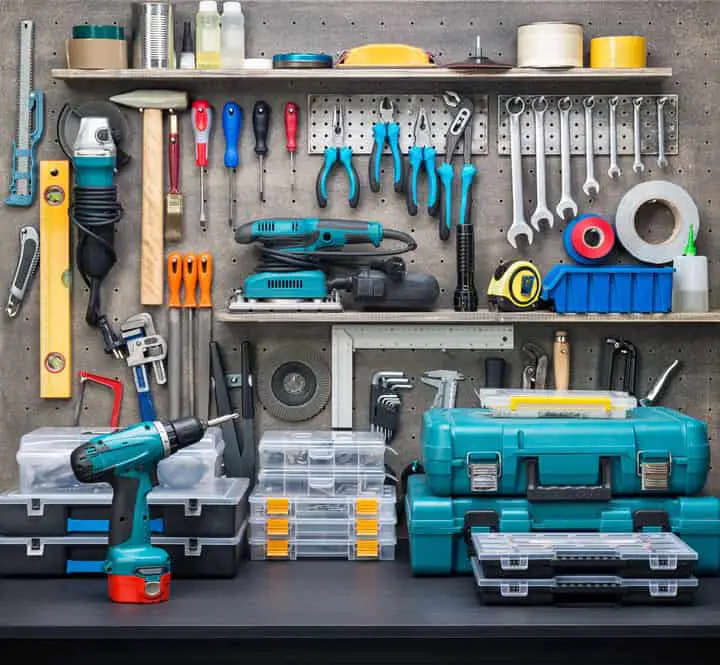 Tools, tools and more tools, each woodworking shop includes lots of tools. These include hand tools, machines and specialized tools. How you perform maintenance, clean and organize your wood shop tools is crucial to them lasting long and perform optimally for you.
The old phrase holds true – "You take of them, they will take care of you". Tools are crucial to your woodworking and wood shop success and you need to ensure they are clean, organized and maintained.
Each wood shop tool such as saws, joiners, planers and table routers require their own maintenance. You will need to occasionally clean, lubricate and possibly replace parts, belts and moving items as time goes buy.
The key to this process is to create a schedule or checklist and place in good spot, such as buy the door or on a board, which reminds you to perform this maintenance. This can be done on a monthly, weekly or daily basis depending on the use of the tool or manufactures recommendations.
---
Another consideration is organization of your tools. We all have wood shops which can get cluttered due to the projects we are working on. The key is to develop a good organization plan for the ease of use and most importantly finding your tools.
This includes everything from the placement of your main saws to the placement of your hand woodworking tools. We will get into organization of your wood shop tools more below.
---
Looking for the best Shoes or Boots for your Wood Shop? – Check out our article – "What Shoes To Wear For Woodworking"
5. Scrap Wood – What To Do With Scrap Wood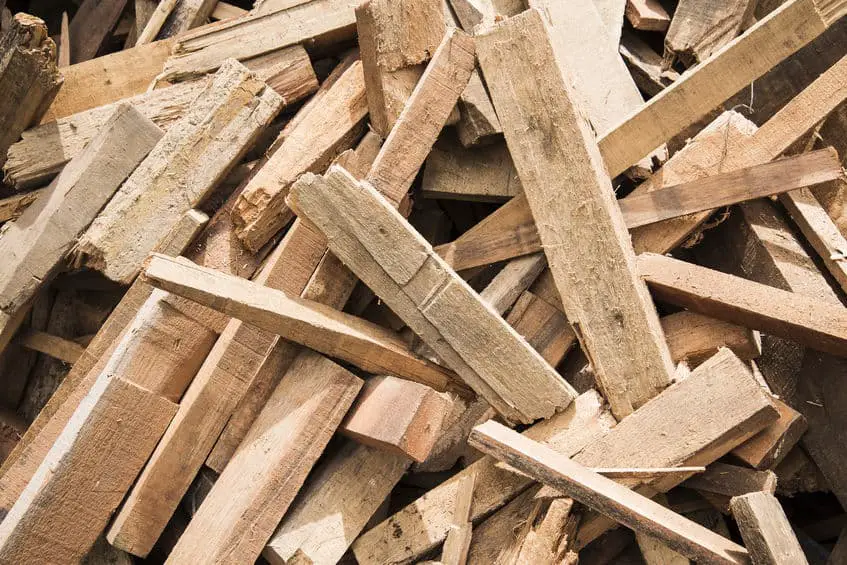 A common side effect of having and working in a wood shop is scrap wood. They come in all different sizes and shapes, species of wood and seem to just collect around the wood shop.
What do you do with the scrap wood which seems to take over your wood shop. Additionally, look at the money sitting there in that wood which you don't want to get rid of. There are a couple of options you have with regard to scrap wood.
Store away – You can build a storage area for your scrap wood which separates by size, species and types of scrap wood. This cart can be fixed to a wall or on caster wheels for mobility. This option makes the scrap wood more manageable and easy to use for smaller projects.
Small Projects – The scrap wood in your wood shop is an excellent opportunity for small wood projects. The wood is more or less free and can be an extra money maker.
Either way it goes your scrap wood although irritating can be a great money maker if you look at it differently. Saving your scrap wood can be a great way to have that extra piece to add to a bigger project or to create smaller projects.
---
6. Big Wood Shop Tool Organization and Placement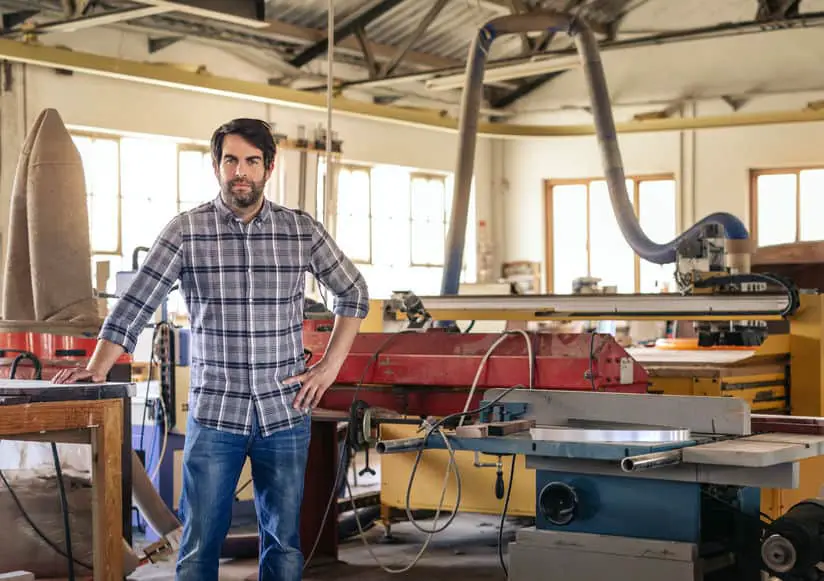 Wood shop tool organization and placement can be challenging. Typically these are the wood shop tools you use the most and also cost you the most. It is important to know with the space you have in you wood shop where to place.
Typical questions asked for wood shop tool placement are how do I organize my wood shop and what is the ideal size for woodworking shop which impacts the wood shop tool placement.
Important things to consider for wood shop tool placement are use of the tools, power and safety.
Use of the wood shop tools – With bigger woodworking tools such as table saws you need a lot of space. Many woodworkers place this in the center of the room to allow for large wood sawing. If you are limited on space you can also create a make shift cover for your table saw to multipurpose your table saw as a work bench.
If the wood shop tool is smaller you can place next to a wall or incorporate into a woodworking bench such as the miter saw. Since miter saws cross cut lumber it is an excellent candidate for incorporation into a work bench saving space.
Power – Power is a huge consideration for your wood shop tools. Does your wood shop have enough power to support the wood shop tools you have and also can you run multiple wood shop tools at the same time. If your wood shop has the power then you need to ensure you are placing the power connections next to the wood shop tools. The main concern is not having a bunch of cables running across the floor which is a tripping and safety hazard.
Safety – The placement of the tools in your wood shop is critical to safety. You don't want to create small passage ways between saws and other wood shop tools. Additionally, you will want to consider in your planning the ability to exit quickly in the event you need to get out of the wood shop.
7. Wood Shop – Shelf Organization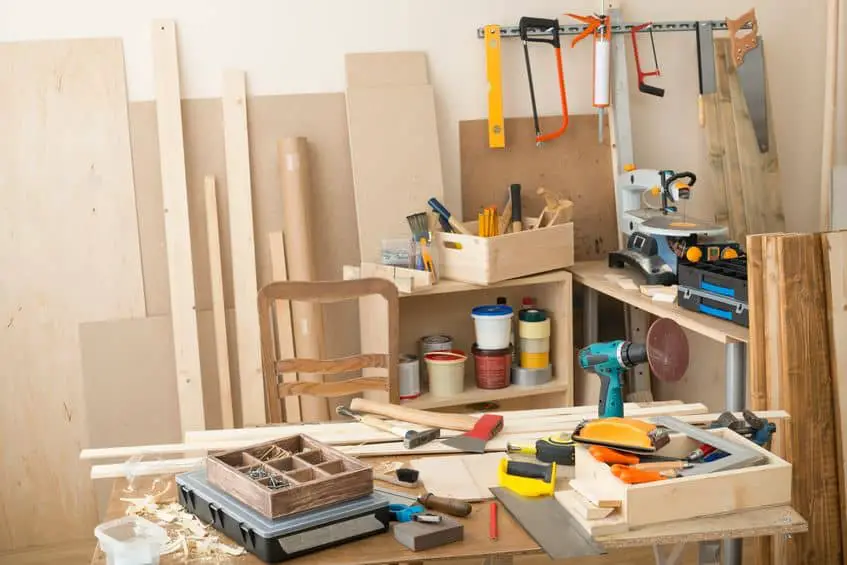 Wood shop space is premium. Another great idea is to install wood shop shelving. Wood shop shelving allows you store tools, accessories and other wood shop items in an organized fashion.
The key to shelving in your wood shop is to get them close to your work area so you have quick access to the tools and accessories. A great suggestion is to group like tools and accessories beside the work station. If you have a sanding station for example you will need to store all of your sanding supplies in the shelf which would be close to that station.
There are many shelves for you wood shop organization. Another suggestion is if you use many small pieces you may want to create a framework for accepting plastic buckets. More specifically for screws, nails and fasteners which are very small and irritating to store. These can incorporated in the wall or on the wall for ease of access.
Below is a great video on small wood shop shelving ideas.
Shelves don't have to be fancy to work, but they do have to be functional. Be creative and look at the ease of use in you wood shop, create and place wood shop shelving which works for your work flow in your wood shop.
8. Wood Shop – Storage of Equipment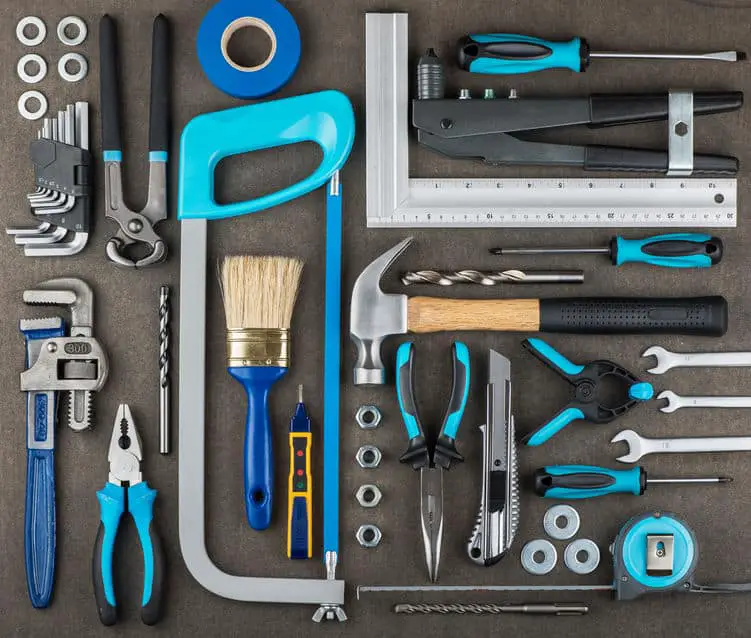 Interestingly enough when I researched the storage of the wood shop equipment I didn't find a lot of information. As I looked at my woodworking wood shop I noticed a lot of my woodworking equipment did not have a place to be stored. And when I did store them, I didn't remember where I put them due to the fact I don't use them very often.
Although these woodworking tools are important, I found if I didn't use as much and just stowed them away. If you are looking to resolve this issue, where you forget about those tools and equipment, store them in an open shelf or cabinet.
Another suggestion is to label them with bright tape and write on that tape what category or specific name of the woodworking tool and equipment. This helps immensely, not only does it remind you of the tool or equipment, but helps you organize to make the space more efficient.
Mobile cabinets are key here also. If you are short on space in your wood shop mobile carts are the best way to go for storing your wood shop tools and equipment. This allows you to store your wood shop tools and equipment and use the wood table top as your work bench.
Looking for info on How To Store Sealer? – Check out our article – "How To Store Wood Sealer"
9. Wood Shop Air Filtration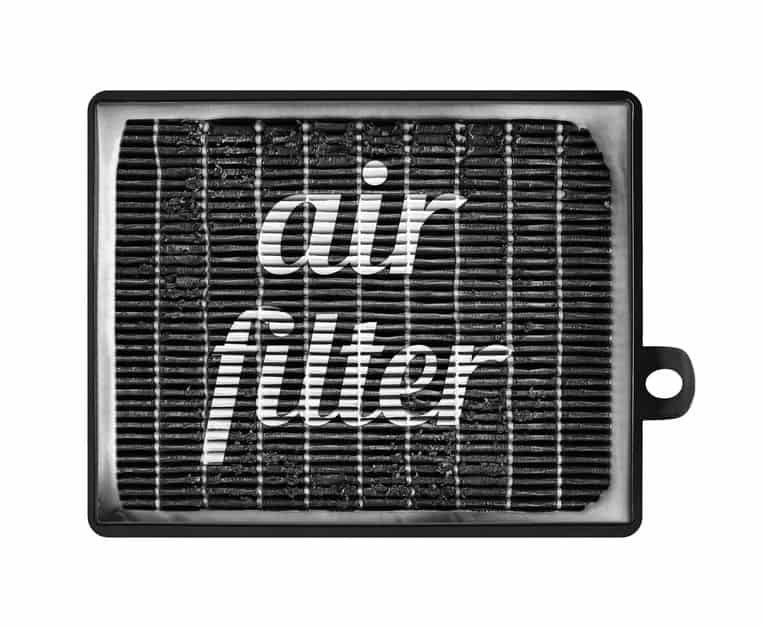 Wood shop air filtration is a crucial consideration for your wood shop. Most folks think if I have a dust collection system I am good to go. Although dust collection is very important in removing most of your sawdust and particles it most likely will not filter fine particles.
Dust which is 10 microns or smaller is not seen by the human eye and can cause the most concerns. You need to look at the whole spectrum of dust particles to completely alleviate any concerns with dust in you wood shop.
So a complete system would include your dust collection system and a air filtration system. What is an air filtration system. They typically hang from the ceiling so it is not in your way and provides cleaner breathing air in your wood shop.
How do I calculate a good air filtration system for your wood shop. Here is a great formula so your air filtration system is capable to filter the air in your wood shop 6 to 8 times an hour.
Wood Shop Air Filtration Formula – volume = length x width x height – then multiply the volume by the number of cycles (start with 6 cycles for one person). Lastly divide by 60. Most air filtration systems are rated by CFM (Cubic feet Per Minute). Dividing by 60 converts to minutes.
Wood Shop Air Compressor – How To Maintain
Looking for information on how to maintain your Air Compressor? – Check out our article – "Wood Shop Air Compressor – How To Maintain"
10. Wood Shop Grips/Clamps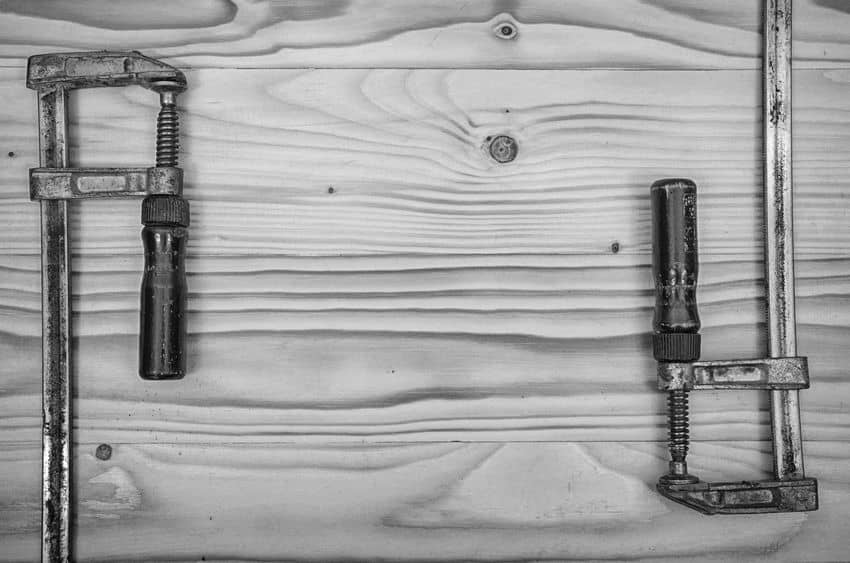 Grips and clamps are crucial to a woodworkers wood shop. They hold and stabilize your pieces of wood for sanding, sawing and carving for example. There are many different types of grips and clamps for all kinds of purposes, what type is the best for you.
Let's look at some of the basic types.
Parallel Clamps
Pipe Clamps
Bar Clamps
F-Style Clamps
Quick Action Clamps
Corner Clamps
Handscrew Clamps
Spring Clamps
Specialty Clamps
Each one of these grips or clamps allow you to hold your wood sign projects very well. Which one would you need to start out. The basic grips or clamps such as quick actions clamps are the best to start out with. They are very flexible and can be used in many ways. Additionally, they are very available at your local hardware or big box stores. Lastly, they are very inexpensive and can be purchased with little money.
11. Woodworking And Wood Sealers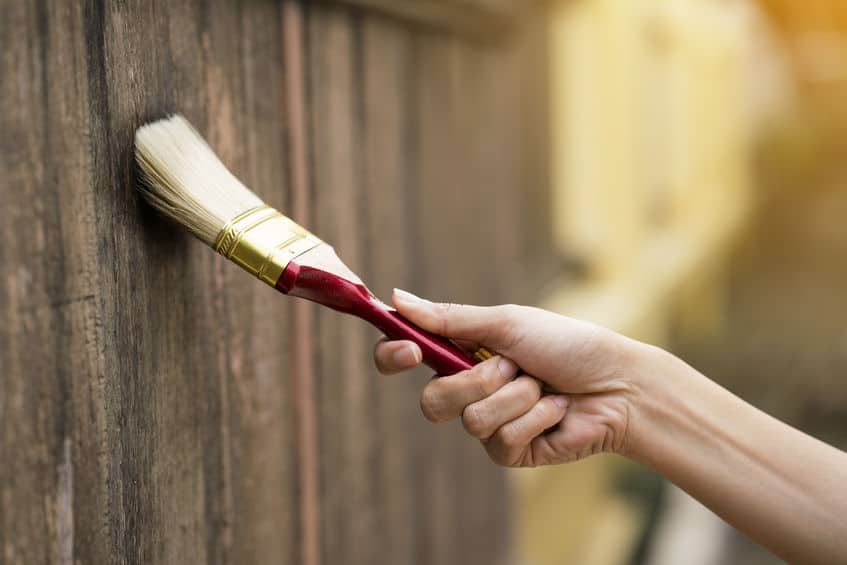 Wood sealers are typically applied over a wood stain to seal the pores of the wood. They provide protection and enhance the look of your wood sign. There are many different types of sealers and they have different purposes, such as will you be displaying your wood sign indoors or outdoors.
What are the basic's of wood sealers. Here is a list of the basic wood sealers on the market.
Oil – Linseed, Varnish and Tung Oils
Oil Based Varnish – Polyurethane, Spar and Gel Varnish
Water Based – Finish which will clean up with water
Shellac
Laquer
Deciding the use, storage and type of appearance you want on your wood sign projects can be a a difficult choice. For more information on wood sealer specifically from a wood sign perspective check out our post below.
All you need to know about wood sign sealing – "How Do You Seal Your Wood Sign?"
12. Wood Shop – Workbenches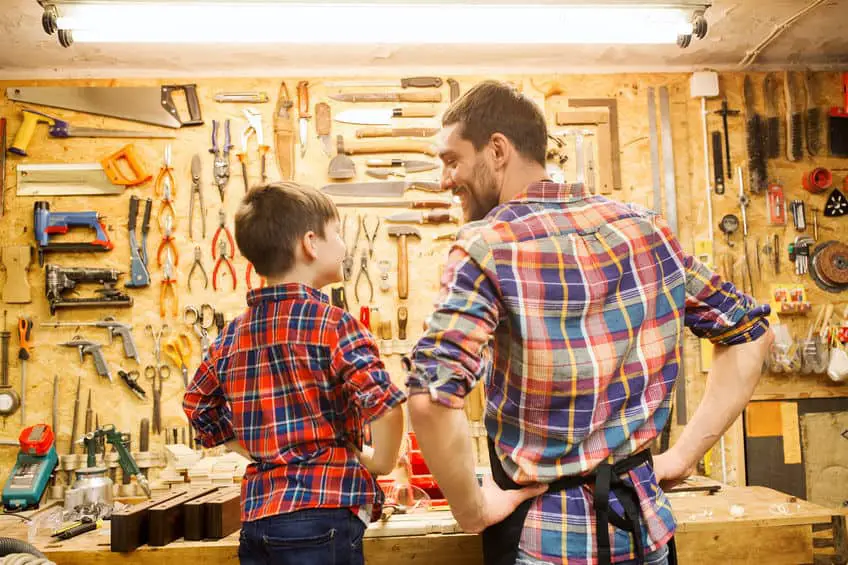 Wood shop workbenches are an important part of our wood shop configuration. We do take them for granted and abuse them, but they provide a one stop shop for all of your woodworking and preparation.
What is a workbench? For most woodworkers it is a basic frame with a flat surface using plywood or MDF. Some woodworkers add a vise and other basic capabilities. As our skills grow or our list of wood shop projects grow we want to add capabilities to our woodworking workbench.
Workbenches come in all shapes and sizes as well as for many purposes. From a wood sign perspective the workbench is crucial. The concern with workbenches and wood shops is the space you have available. If you want a larger workbench workspace you need to make them mobile or with the ability to breakdown.
What wood is good for a workbench? If you are just starting out you can make to your purpose and whatever material you have around the wood shop. The best wood is opinion based, however if you are going to be doing a lot of painting, sanding and routing I would recommend your basic MDF or plywood for the workbench top and a pine frame.
Consider what you use the workbench primarily for. How much workbench space do you need for the main projects you are going to do. These are the biggest concerns for wood shop workbenches.
13. Wood Shop – Heating And Cooling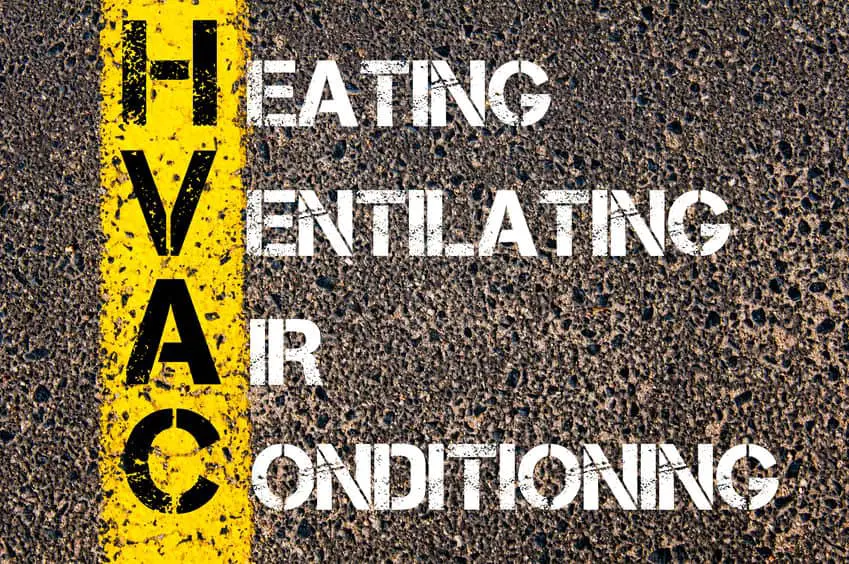 Heating and cooling your wood shop is very important. In the summertime you will be sweating and hot and in the winter time you will be seriously cold. Also, the extreme heat and cold impacts your wood, paint, sealer and other woodworking tools. This is a main concern and you need to consider heating and cooling for your wood shop.
Heating Your Wood Shop
How do you heat a woodworking shop. The first consideration is insulation. Do you have any insulation in your wood shop. Keeping any heat in the wood shop space would be solved by installing insulation.
Another consideration is heating your wood shop what do you heat your wood shop with. There are a lot of solutions on the market. Additionally, you have the consideration of safety, cost and how much space you are attempting to heat.
Electric heaters are a great source of heat, as well as jet space heaters. If you want a great source of heat which works very efficiently, radiant heat is the way to go. I have provided a video below for more informaiton.
Cooling Your Wood Shop
In the summertime cooling your wood shop is key to success. It alleviates the stress to your wood, tools and yourself. There are many options as well on the market for cooling your wood shop and they are very effective. What considerations do you need to think about when looking at cooling your wood shop.
The main considerations for cooling your wood shop are power, space and dust filtration and control. The power is option is a consideration due to the power requirements of your cooling solution. Do you need 220v outlet and what will it do to your power bill.
Space is a consideration as most of your cooling solutions will need to be able to overcome the humidity in that space. Is your cooling solution, such as a window air conditioner able to handle the space of your wood shop. Otherwise it will attempt to remove the humidity but will be overcome and you will really just be paying a high electric bill for not a lot of cooling your wood shop.
Dust is a big concern for air conditioning units. I found it interesting that this is not discussed as much in my research. If you don't have a good dust collection system and/or air filtration system you will be continually cleaning you air conditioner filter or clogging up your air conditioner making it not work as efficiently.
Below I have provide a great video which provides a simple solution.
---
14. Electrical Planning And Requirements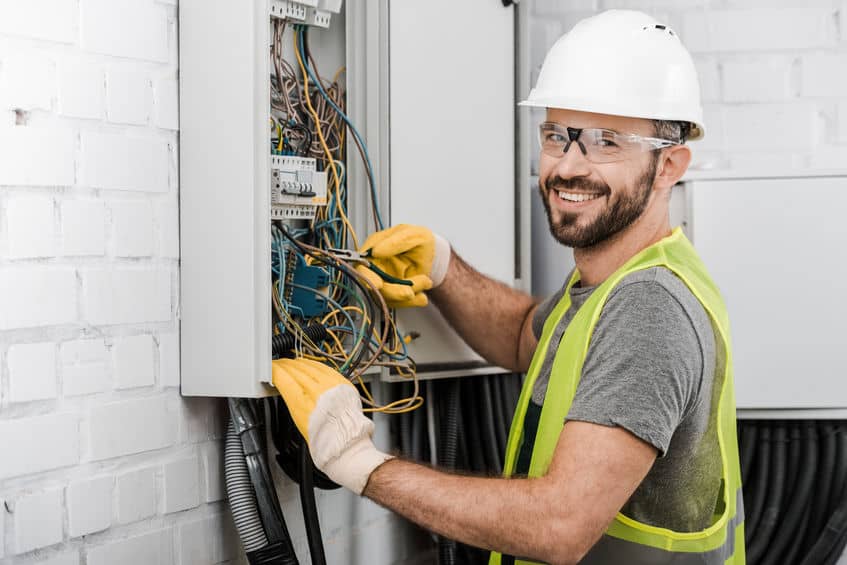 Electrical power and there requirements in your wood shop are critical to your success. Whether you have a new wood shop or are re-configuring an existing space you need to look at your power requirements.
What do you need to consider when looking at your electrical requirements for your wood shop.
Lighting
Compressor
Dust Collection
Heating and Cooling
Wood Shop Tools
The above is a basic list of the support you will need to consider when determining the amperage in your main power box. Let's look at a few of the most common power requirements for wood shop tools. How many amps do I need for a workshop?
| Tool | Typical Required AMPs |
| --- | --- |
| Small Hand Tools | 2-4 |
| Large Tools | 6-16 |
| Miter Saw | 12-16 |
| Air Compressor | 8-18 |
| Dust Collection | 10-18 |
| Planer | 12-16 |
| Band Saw | 10-14 |
| Table Saw | 6-16 |
| Drill Press | 10-14 |
Typically a 100 amp service will do the trick when you are considering power requirements for your wood shop. A great suggestion is to completely separate your wood shop to a separate sub panel so you can control the power requirements and isolate your wood shop.
Additionally, you will need to consider does your tools require specifically 240 volts. Or does your tools require a dedicated breaker. For example will you be running multiple tools at the same time from the same circuit to a single breaker.
Below I have provided a great video explaining the basic considerations you will need to look at when reviewing the power requirements for your wood shop.
Ensure you consult a professional electrician when considering your wood shop electrical requirements. They will tell you specifically what you will need to match the above list and your specific wood shop requirements to ensure a safe and code compliant wood shop.
15. Wood Shop Waste Material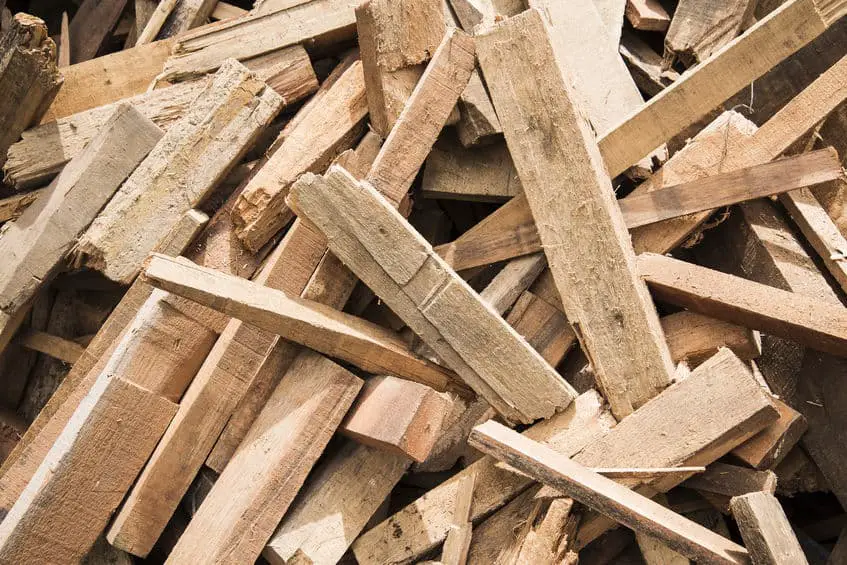 Woodworkers generate a lot of wood shop waste material. Most of us woodworkers are frugal and attempt to use the wood for anything despite how small because we don't like to waste any species of wood.
What do we do with the waste or also know as our scrape pile. There are many things which can be used from scarp wood. We can make them purposeful. Below is a small list of ideas you can use the scrape wood for.
Cutting Boards
Wall Art
Spoons
Coasters
Jigs
Shop Storage
Shelving
Clamping protection
If you are not able to make any smaller projects from your wood shop waste what do you do with it. You can put the wood on a burn pile. However, be careful of treated wood and glued wood such as plywood and MDF. The glue in these woods can sometimes be toxic.
Wood shop waste depending on the size can also be used for mulch, small animal bedding and in glue to fill holes on wood shop projects which warrant a fix.