Learning how to fix paint mistakes you make on wood signs is simple with these two methods. During my journey of learning how to paint stencils and freehand paint wood signs, I needed to understand how to fix my painting mistakes. It is inevitable that you will make a mistake due to many reasons.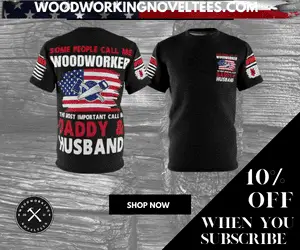 Fixing your painting mistakes can be a difficult decision, how will the final product look. The basics are sanding down the current paint with 220-Grit sandpaper and start over. Or you can paint over your painting with crackle paint and create a new masterpiece. Either solution works very well.
---
---
Fixing Your Mistakes Is More Of A Mindset
We have all looked in our minds about how the end result should look. Unfortunately, we stumble a little bit along the way which is okay as we learn and grow with our creations. During my research, I concentrated on the two areas I use the most and hope this will assist you in your efforts.
Fix Paint Bleeding From Stencils
If you stencil to paint a lot or are extremely new to the techniques, as I was, you will have encountered the occasional bleed of letters. (If you would like to know about painting stencils with crisp lettering you can look at my other article – "Stencil Painting Without Stencil Bleeding On Your Wood Sign")
Assuming you have already applied your stencil and painted your wood sign. You pull the stencil back to reveal your letters or image to find you have painted letters bleeding on the background and the letters are not crisp as you want them. Here are a couple of methods to fix the painting mistakes.
Use A Baby Wipe To Clean Up The Paint
Once you notice the bleeding of the paint from the stencil grab a baby wipe. Clean up the bleeding paint as quickly as possible by gently moving with the grain in small circles and wipe with a dry cloth. Do not rub to hard because you may affect the background on the spot you are rubbing to clean up the paint. This method works well if you are using a water based paint.
If you rub to hard or a discoloration of the background is noticed you can replace by dabbing (lightly) a little background paint that matches or stain to replace.
If the spot is too far gone to repair with background paint or stain you may consider distressing the whole sign to create a new look.
Correct A Hand Painted Wood Sign Letters
If you are talented enough to hand paint your sign with a custom background and custom lettering, you definitely have experienced mistakes. Especially if you produce many of them for a product line. What do you do to fix these masterpieces?
It is believed initially that you can just touch up your paint with a smaller brush or sponge applicator. Hopefully, you can just touch them up to correct a mistake.
However, this example more specifically refers to if you didn't estimate your space to the size of letters you are hand painting. Was it too far to the right or left or too far up or down?
There are a couple of options you can do as I have shown below.
Sand Down and Restart Your Sign
This option is the most drastic of the options and creates the most work as well it takes the most time.
Ensure your hand painted wood sign is completely dry
Secure the sign down with a Grip to a flat surface
With an 80-Grit sandpaper sand down your painted wood sign either by hand sanding or by Orbital sander – (Preferably Orbital sander)
Switch to a 120-Grit sandpaper and hand sand or use your Orbital sander)
Ensure your wood sign is clean from dust and debris by either blowing clean with an air compressor or wiping with a clean cloth or microfiber cloth.
Begin painting your wood sign again for fixing paint mistakes you made on your wood sign.
If you would like to see what products I'm using and purchase you can see my recommended products here – "Recommended Products"
Paint Over Your Wood Sign To Fix Painting Mistakes
Looking at the same problem as listed above you have a painted wood sign which when you hand-painted, you miscalculated the spacing and it is either too far to the left, right, top, or bottom.
I wondered about going through all the hand sanding or Orbital sanding as mentioned above why not paint over it? If I was to paint over, as I found in my research, with the noted video below, will it work and will it look bad?
Painting over your painted wood sign to fix your painting mistake is something you should think about and possibly be creative with. Do you recreate your original piece or add a new appearance, something subtle which gives it the extra pop you are looking for?
I really liked the look of the finished product with the crackle background paint and decided to push forward with repainting it with the new background as depicted in the below video.
The video really goes into detail on the mistake and how they painted over that painting mistake. Below are the steps on how to fix the painting mistake made on your wood sign.
Take the wood sign you make a mistake painting on and paint it totally black, allow to completely dry. This will provide the background which the new crackle background will use for the see through cracks.
Paint on the crackle background paint and allow to dry.
Begin to paint your design on top of the crackle paint which you were using before.
Allow to completely dry
Lightly paint over with a varnish for completed look.
This creates an incredible new design with a rustic look. So fixing your painted wood sign mistake has created a new masterpiece.
Although you may not use the crackle paint, you can repeat the original process to recreate your masterpiece. The example I have given is to show more the process than change the background.
Using Old Paint – How To Get Rid Of Smell And Fix
We all have that leftover paint in your garage, basement, or barn which we didn't want to throw away and thought we would use down the road. Wellbeing a penny pincher myself I have done this and when a project needing paint on a wood sign came along I wanted to use the color which I knew I had but was bought a long time ago (Approximately a year).
I had the thought that basically latex paint doesn't go bad. I was wrong. Although when I opened the paint can it had quite the smell I pushed forward-thinking it was okay and the smell was going to dissipate after the painting project was completed.
Why Does Paint Go Bad?
Latex paint typically has a shelf life of 10 years. Which would lead you to believe if you don't use the paint in 10 years you are most likely not going to use it at all. However, we all forget about the paint until we need it.
The main reason for a bad smell in latex paint or paint going bad is bacteria. The bacteria can be introduced at the time of manufacturing or during tinting at your local store. Latex paint, low and zero VOC paints are vulnerable due to the low level of solvents which help against bacteria as well stabilizes the paint.
Continuing On With The Paint – Despite Smell
The paint did not show any signs of mold or being bad beyond the smell. I mixed the paint and the mix went smoothly. So I mixed the paint well and proceeded on. Applied the paint to the wood sign thinking at the time it would all be okay if I kept it in a well-ventilated area.
This was not the case and the sign still smelled bad even after it dried.
Fixing The Bad Paint Smell
To fix the bad smell of the paint on the sign you need a few things. Below I have listed a few remedies which you can use.
Mix 1 part bleach to 10 parts water and lightly wash the painted section of the wood sign careful not to damage the background you have painted or stained
Clean with clean water and a clean cloth or sponge wiping outward from the lettering or image
Let dry for 2 hours – If smell persists repeat the process of 1 part bleach to 10 parts water
If the smell still does not go away and persists the only other remedy is to accomplish the painting project on the wood sign starting with using sealing primer such as Kilz or Kilz 2. You may need to apply multiple coats to get the smell to completely go away. (This is due to the paint/smell possibly going into the wood pores)
The lesson is despite your efforts at keeping your costs low, get new paint or paint you feel comfortable using.
If you like the information provided please ensure you Pin the below for this article to Pinterest and also follow me on Pinterest
---