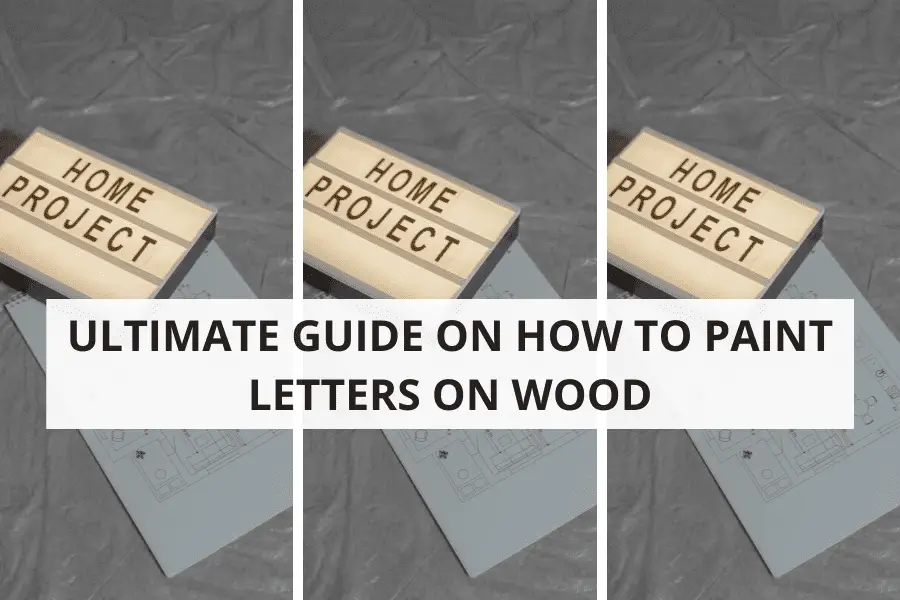 When you are looking to know how to paint letters on wood it is important that you want to be precise, not bleed or paint over onto the back of the sign and give a good impression especially if it is for that special person, friend, or family member.
There are many options to think about when you are looking at letter painting ideas. It can be overwhelming, so being a novice, I decided to do some research to see what were some of the best paint letters ideas and create the best-looking wood sign.
---
This post is about how to paint letters on wood
When painting letters on wood there are basically two options to consider on how to approach your painting technique. If your wood has carved lettering, seal the wood sign with a sanding sealer, then paint with an aerosol primer across the letters then sand. 
GREAT GIFT IDEAS!
If your letters are not carved, for example using a stencil or freehand, print the font, size, and letters you want from a computer, cut the letters out, arrange them on the board, and use a marker to outline them on the wood board.  With a sponge applicator or paintbrush, paint inside/outside lines. 
---
---
Painting Letters On Wood Signs Explained
Many folks choose different methods to paint the letters on their wood signs.  What is interesting is the many options you can use.  So, when researching I asked myself a few questions.  What color, effect, method, and how much will it cost on my minimum budget.  Surprisingly I found more options and methods that didn't cost a lot but gave me the look I was going for.
Painting your wood sign is a simple process of applying the desired paint (Acrylic recommended) to the method(s) described below. Use small brushes or a sponge applicator (Preferably a sponge) to apply your paint in a dabbing motion with a general – Not Generous – amount of paint. Apply at least two coats and let dry between each session.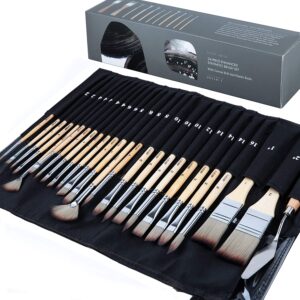 24 Piece – Paint Brush Set
These are precise at applying paint to letters and wood signs in general. Inexpensive and very effective. Get yours here from Amazon
---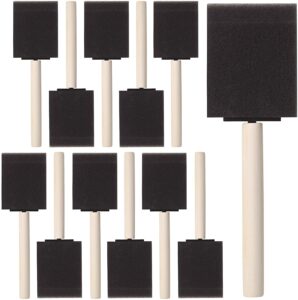 Foam Paint Brushes
These are great at applying paint to letter and wood signs in general. Inexpensive and very effective. Get yours here from Amazon!
---
Carved Lettering: How To Get Paint In Wood Carved Letters
If your wood sign project is carved and has carved lettering the method of painting is very simple and provides a very nice look. You can paint using spray paint (Preferably Primer) purchased at your local hardware store or if you have more resources you can use an airbrush system. Both offer different color options and different additives like metallic or glitter for example. (You can apply your stain afterward)
---
Here is an excellent video for you to look at for the basics of painting letters ideas!
Steps On How To Paint Letters On Wood
Make sure your wood sign is smooth and free of dust. This can be done by sanding with 80 grit and 220 grit sandpaper. You can sand by hand, by orbital sander, or by a belt sander depending on what you have on hand. Then wipe off with a clean cloth or microfiber cloth to ensure it is free of dust and dirt.
Ensure the carved wood sign is coated and sealed by a sanding sealer, lightly coded with a foam sponge or handy clean rag.
Let completely dry in a well-ventilated area – this is important as it will not completely seal the wood sign if still wet. The result would be the paint that will be applied will bleed into the wood surrounding the letters creating lines in the wood.
Paint the wood sign with your Aerosol paint or Air Brush evenly across from left to right. Then repeat the process in the opposite direction to ensure you have complete coverage. You don't need to paint with excessive paint, but just enough to provide coverage. (Big misconception is to paint heavy – It isn't needed)
---
Lettering Not Carved: Alternatives To Painting Carved Lettering On Wood Signs
If your wood sign is not carved and you are on a limited budget, like me, you do have other options. Below I have provided several painting letters ideas for wood sign(s) that are effective and provide options of look, font, and appearance. Basically, it is limited by your imagination and creative thoughts to tailor however you want. Don't be the norm and create that special wood sign!
Letter Painting Ideas
Basic Stencils – Homemade or bought
Dura-lar – Reusable Stencil – Use spray adhesive for sticking to the wood sign
Vinyl – Very Effective, but increases cost due to the supplies you will need – Hire out (Many sites will do the work for you online) or take the spill in buying – Expect to pay a moderate amount of money for machines and supplies which you will need if you use on your own
Hand Drawn – If you are artistic and have the ability to draw your lettering – Awesome if you are able – If not have a friend or hire out
If you would like to see what products I'm using and purchase you can see my recommended products here – "Recommended Products"
Each of the above options is simple and easy to accomplish with most items you would typically have around your home. This greatly reduces the amount of money needed to paint your wood signs. So let's get to it!
---
Stencils – Crafty Way Of Painting Your Wood Signs
First of all, you need to decide whether or not you will stain your wood sign prior to painting with the stencil or not. I have had mixed results on both.
Preferably you would stain your wood signboard first. It makes painting with the stencil so much easier and you don't have to worry about attempting the difficult task of staining afterward. If you over-paint from your stencil you are able to correct it fairly easily with hand sanding and stain touch-up.
Here is an excellent video for you to look at for the basics of painting letters ideas!
---
What Can I Use To Stencil Painting On Wood Signs?
Basic Stencils – These are created by yourself using a word processing program on your computer. Additionally, you can use some free services online. Canva is a great choice and the one I used. Choose the font, phrase, and picture, logo if you want that extra punch for impressing the person you are giving to; and how you want them oriented.
Print out on your printer. (If too large for one page you can use Rapid sizer (Online) to breakout to multiple pages equally and tape them together) Once you have printed them, cut out around the letters or inside the letters depending on the effect you would like with an Exacto knife or carpet knife.
Use basic adhesion spray glue to adhere your basic stencil to the wood sign and paint as described above. Additionally, you can buy at your local craft store or hardware store pre-cut stencils. The selection is limited by font and size – beware.

Dura-lar – (Dura-Lar) This is a more costly option that would require you to have a cutting machine such as a Cameo or Cricut to cut the plastic stencil. If you have one of these cutting machines, then great! This product is very durable, reusable, and can be cleaned for repeated use if you plan to make multiple painted wood signs of the same phrase and image (if applicable).

Vinyl – This is the most common stencil and is used widely by many small business wood sign companies. Again, this is cut utilizing the Cameo or Cricut machines. Typically a vinyl product such as Oracal 651 or Oracal 631 vinyl is used (There are different products, and colors, however, I found this product line is the best for this application). It has a peel and stick process where you peel the back off and stick to the wood sign that you are wanting to paint. This provides the stencil for you to apply your paint. Don't worry the adhesive back is not permanent!
---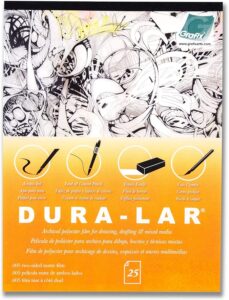 Best Option For Stencils
This stencil vinyl has a proven track record for creating the best-painted stencils. Get yours here from Amazon!
---
Hand Drawn – Are You Able To Draw – Painting Letters On Wood Signs
If you have the ability to draw freehand you can use a pencil or colored marker (Preferably erasable) to draw your letters on your wood sign, and completely avoid all the effort and cost of the stencil which is huge (Have a friend that can draw?).
This allows you to be super creative and not worry about the cumbersome stencils mention above. Additionally, you would be able to paint your wood sign with little to no cost except for the brushes and paint.
Here is an excellent video for you to look at for the basics of painting letters ideas!
---
Cost versus Level of Difficulty
There are many advantages to letter painting ideas to create your masterpiece on your wood sign project. Below I have created a table for you to view and make a determination on what option is the best for you.
The main factor(s) involved was limited knowledge, minimum budget, and one-time effort for my masterpiece painted wood sign.
| | | |
| --- | --- | --- |
| Painting Method | Cost | Level of Difficulty |
| Carved Lettering | *High | Low |
| Basic Stencil | Low | Low |
| Dura-Lar | *High | *High |
| Vinyl | *High | Medium |
| Hand Drawn | Low | Medium |
(*) Denotes extra equipment needed – Con: Cost of equipment and learning curve
---
Related Questions:
Are painting letters on wood signs hard? Painting letters on your wood sign is not hard but can be time-consuming. Plan plenty of time to ensure your paint dries completely. With patience, effort, and a little fun you can achieve the vision in your mind of the end product.
Why do my letters bleed when I'm painting wood signs with stencils? When using the stencil for painting your sign, if you are not getting a good seal around the edge of your letters on the stencil the paint will seep under the edge of the stencil and the letters will not be crisp and clear.
How much paint do I use when painting on wood signs? Dip your sponge applicator into the paint and get a small amount (Enough to dabble the paint up and down and get coverage), not a generous amount. You don't want to over-paint the lettering on your wood sign.
---
This post has been about how to paint letters on wood and some of the options in how to accomplish