A wood shop environment has lots of hazards for your eyes and wearing eye protection is crucial. There are occasions we all don't think about the effect on our eyes when we use woodworking tools. There are some absolutes in a wood shop and this is one of them.
When we cut, route, joint, drill, seal or paint the woodworking projects we need to wear eye protection. All of the functions in a wood shop have dust, fumes, or debris coming off of them which will impact our eyes. Protection is paramount to safety in your wood shop.
There are many forms of eye protection on the market today and they have many purposes. Does this mean you need to buy all of them; not necessarily? I would suggest you look at the most prevalent functions in your wood shop and approach the eye protection needed.
Some of the eye protection solutions are multipurpose and will serve you well. This would definitely solve the need for multiple eyeglasses. However, every once in a while you may have a specific purpose-driven reason to purchase a specific type of eye protection.
GREAT GIFT IDEAS!
---
When Should You Wear Eye Protection
All wood shops come with hazards and eye protection is definitely one of the paramount items to consider. With hazards such as dust, solvents, and debris flying around from woodworking tools, sanding, or spraying you need to ensure your eyes have the proper protection.
A good rule of thumb is to consistently wear eye protection from the moment you enter your wood shop. However, you may also consider that there are specific functions in the wood shop which will require specific types of eye protection.
Fine Dust
Fine Dust from treated wood – containing chemicals
Debris from saws, joiners, routers
Dust and debris from sanding or sanders
Sealing and Staining
Painting
Cleaning and dust collection systems
The above list is not all-encompassing but shows a definite list of generic considerations when thinking about eye protection in your wood shop. As mentioned eye protection is paramount to your safety and those who work in your wood shop.
Woodworking Eye Protection Over Glasses
This has been a question I have seen a lot and truly wanted to find a solution so I can bring it to you. While researching I was surprised to see the many options which allow you to utilize your existing prescription glasses and yet still enjoy having the safety of eye protection in your wood shop.
If you are not able to wear contact lenses (Not recommended in wood shop due to fine dust and solvents in the air), you can wear your prescription glasses under many of the options we discuss here. Glasses, Goggles, and Face Shield options are available so you can wear your prescription glasses below them.
This provides the best of both worlds and allows you to work safely not only from an eye protection perspective but also from the perspective of being able to safely operate woodworking tools and not bump into standing tools or debris on the floor for example in your wood shop.
Be sure to get the total protection for your wood shop by looking at our articles on Should I Wear Ear Protection and Should I Wear A Dust Mask For Woodworking
---
What Is The Best Eye Protection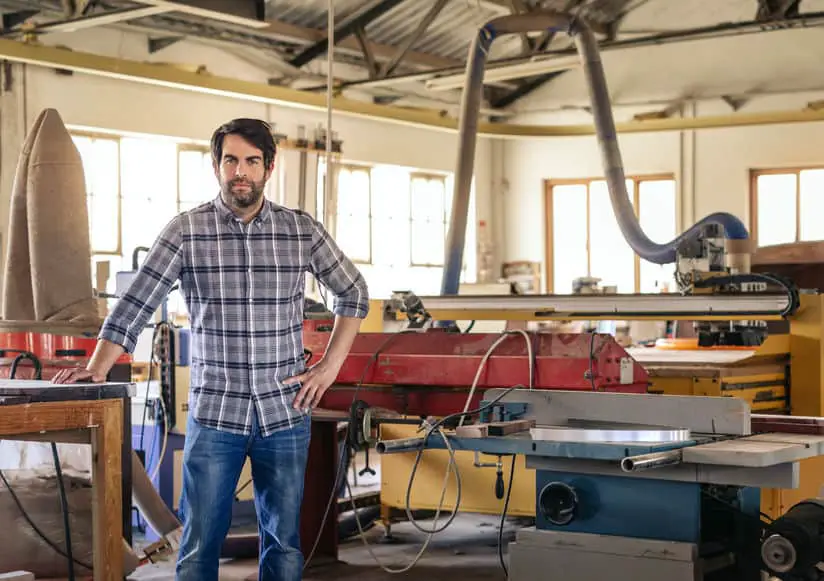 According to the Department of Ophthalmology and Visual Service at the University of Wisconsin, 90% of work-related eye injuries can be prevented. Knowing this eye protection is crucial to your success in your wood shop.
There are many products that offer eye protection. Here I wanted to provide an overview of these products and give you the best information for your eye protection in your wood shop.
These days safety glasses are more comfortable and surprisingly inexpensive compared to a long time ago when your only option was the horn-rimmed glasses of the '50s. They come in different lenses, colors, and purposes. So what are your options?
Glasses
Safety glasses are the most common eye protection on the market today. They have improved greatly with the new and innovative plastics which are much safer than in years past.
Safety glasses are great at keeping normal levels of debris and dust from getting in your eyes. All safety glasses must meet the American National Safety Institute's (ANSI's) standard Z87.1-2003 to protect your eyes. However, it doesn't necessarily cover the comfort and fit for your use.
With many styles, you will want to select glasses that fit snugly to your face and extend from your brow to the top of the cheek. This provides the most protection from normal levels of dust and debris. Additionally, you may want to consider the availability to adjust the nose bridges, padding against the face, and templates that extend to your ears.
Additionally, they also have models which you can wear over your current glasses if you require to wear existing glasses and want eye protection. This is a bonus because you get extra protection from fine dust and debris and are able to wear your prescription glasses.
Lastly, you may want to consider glasses with LED. Today's safety glasses offer integrated LEDs which offer that extra light that will help you see more clearly your wood project.
---
Here are the top recommendations for your safety glasses. I wanted to provide three options for each different style you may want to use.
---
#1 Dewalt DPG51-1C Radius Clear 10 Base Curve Lens Protective Safety Glasses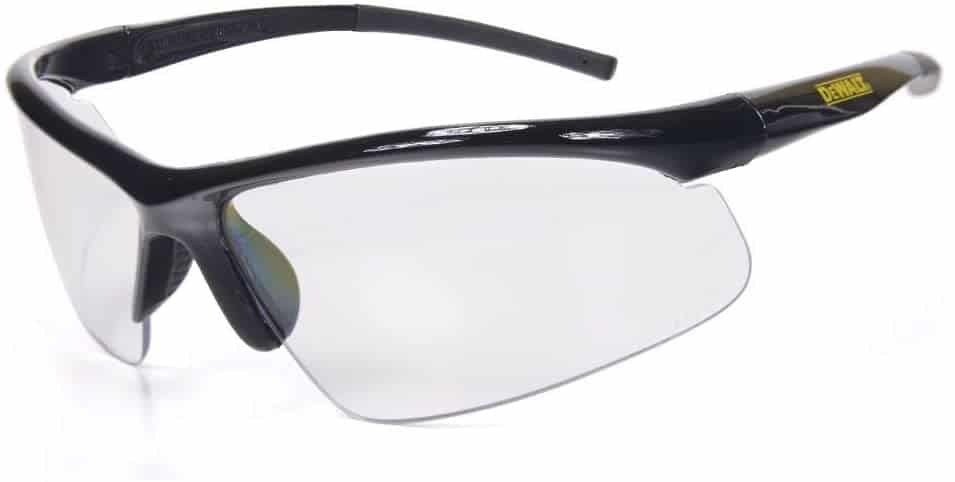 Made of good quality products
Select propellants that deliver consistent accuracy and performance
Product is manufactured in Taiwan
10 base curve lens provides maximum coverage and protection.
Rubber tipped temples provide a secure comfortable fit.
Soft, rubber nosepiece provides non-slip, comfortable wear.
Tough, polycarbonate lens provides impact resistance.
Pros:
UV protection
Handgrip pattern on temple
Impact-resistant safety glasses also offer a polycarbonate lens.
Reduces eye fatigue
10 base curve lens which provides maximum coverage and protection
Cons:
Some customers have said the glasses may have some type of magnifying glass which may make you light headed
If you would like to purchase – You can purchase from Amazon here.
---
#2 Pyramex PMXTREME Safety Glasses with LED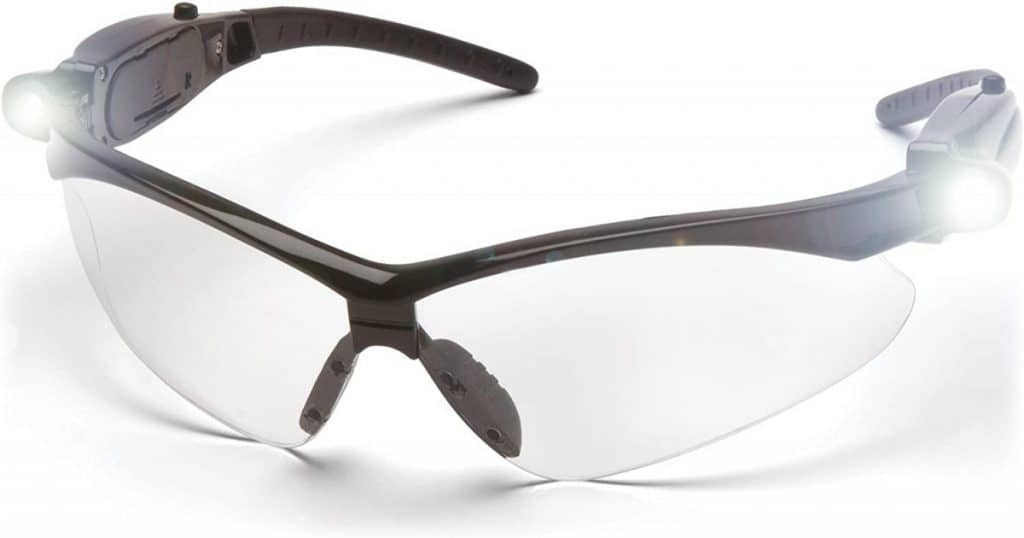 Built-in rubber nose piece
Easy to use push button on/off switches
Super bright led bulbs (3 lumens per side)
The L1154 alkaline batteries provides up to 50 hours of use before replacing
Rubber temple tips
Pros:
LED's are brighter than other products
LED's are adjustable
Batteries didn't seem to add to much weight when using
Fit is comfortable
Cons:
Battery life may be a concern
Glare may be a concern on the lens when LED's are a certain angle
If you would like to purchase – You can purchase from Amazon here.
---
#3 Pyramex Solo Safety Eyewear – Over The Glasses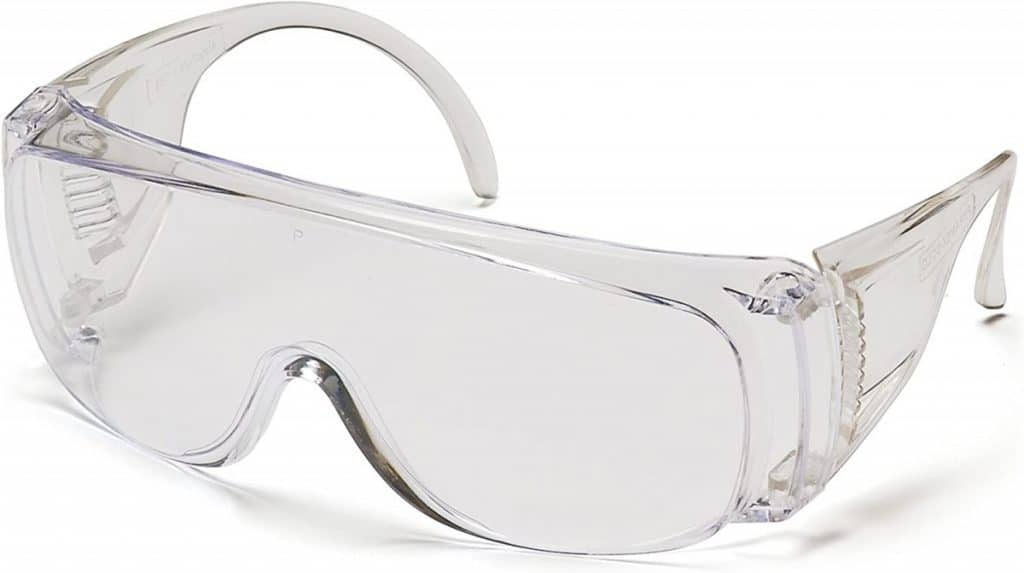 Lightweight and economical
Temples are vented to reduce fogging
Scratch resistant polycarbonate lens provides 99% UVA/B/C protection
Pros:
Light weight
Easy to Use
Covers most regular eyewear
Scratch resistant
Cons:
If you would like to purchase – You can purchase from Amazon here.
---
Goggles
If you are wanting an upgraded version of protection to protect you against more dust and flying debris you may want to check out the Goggles. I'm sure you have seen them as they look like something you would wear for skiing.
The new versions of these Goggles today have many options to protect your eyes as well as keep minor dust that is flying around when cutting and sanding. These are an excellent choice and definitely answers the question – How Do You Keep Sawdust Out Of Your Eyes.
They also have models which you can wear over your current glasses if you require to wear existing glasses and want eye protection. This is a bonus because you get extra protection from fine dust and debris and are able to wear your prescription glasses.
Here are the top recommendations for your Goggles. I wanted to provide two options for each different style you may want to use, whether by themselves or over your existing eye glasses.
---
#1 – MCR Safety 2410F Verdict Polyvinyl Chloride Strap Foam Lining Safety Goggle with Smoke Frame and Clear Anti-Fog Lens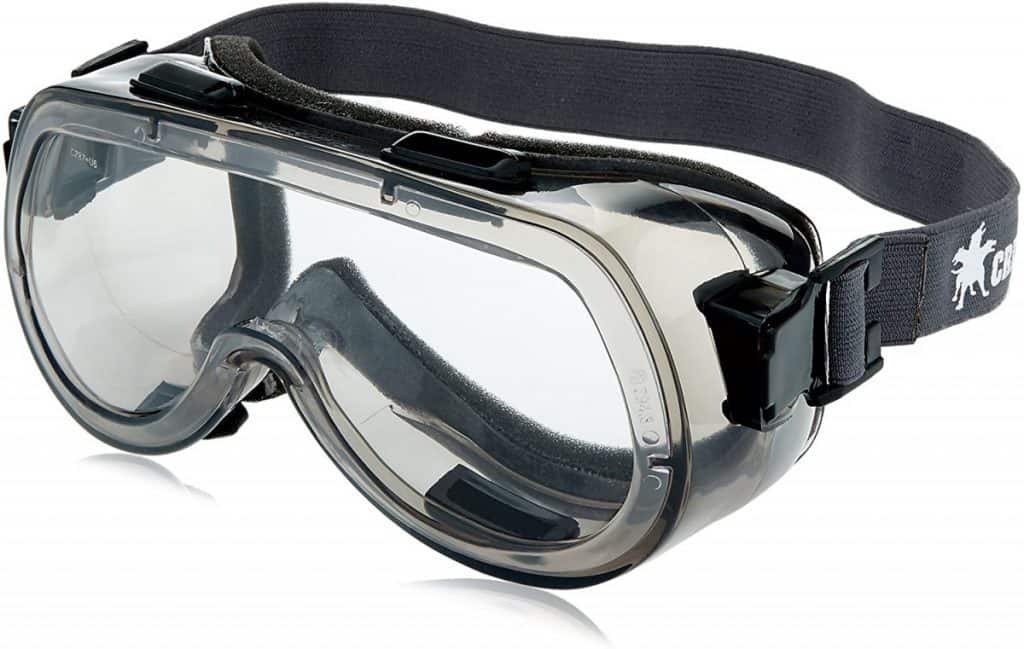 Verdict elastic strap foam lining safety goggle with indirect ventilation
Frame is made of polyvinyl chloride material
Impact and chemical resistant
Comfortably fit over prescription eyewear
Available in smoke frame and clear anti-fog lens
Pros:
Flexible and easy to use
Anti Fog works really well
Keeps flying debris away from eyes
Keeps dust away from eyes
Cons:
Does not go over existing eye glasses
If you would like to purchase – You can purchase from Amazon here.
---
#2 – SAFEYEAR Anti Fog Safety Goggles- SG007 HD Scratch-Resistant Safety Glasses Lens for Men and Women, VU Protection Over Glasses Work Goggles for DIY – Woodworking Eye Protection Over Glasses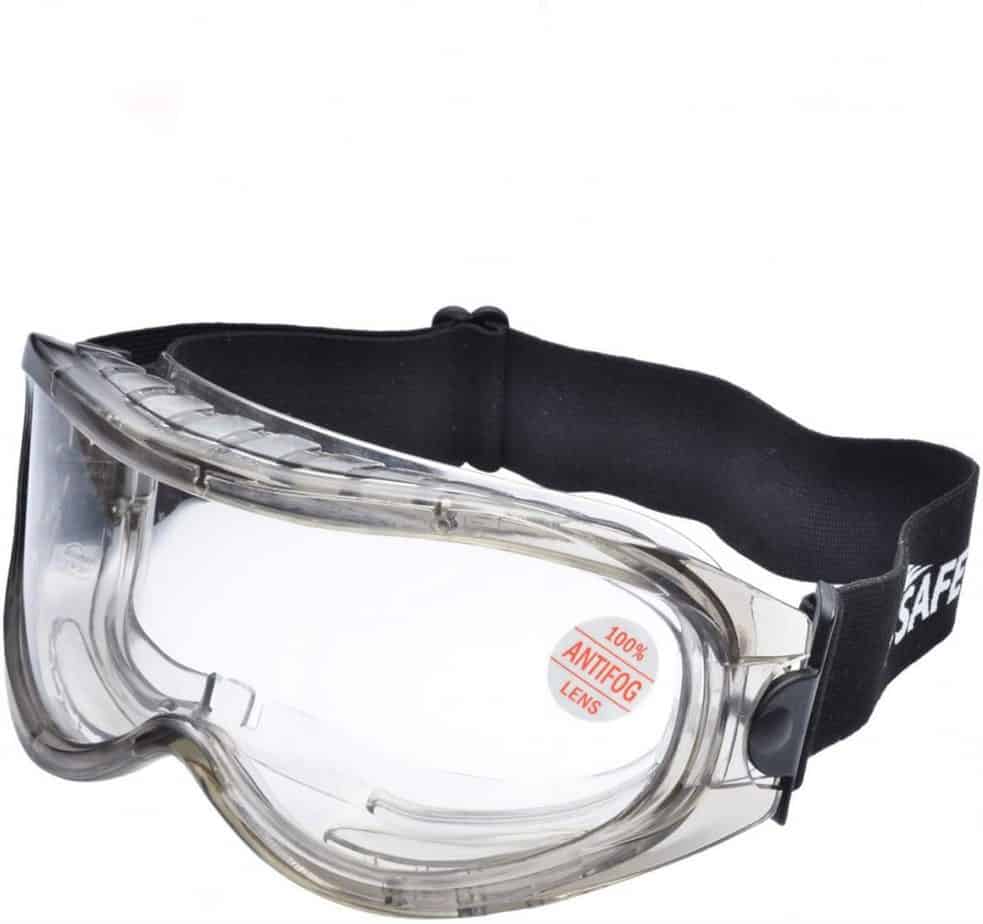 ANTI FOG LENS: Clear HD Lens With Anti Fog Coating Technology Prevent Adult Protective Safety Goggles for Eye Protection DIY, Lab, Cycling Sport, Motorbike, MTB, MX, Ski, Snowboard, Aviator From Rain Water or Snow Steam, chainsaw worker, cleaning, construction, dental health, dentist, desert, designer, electricians, engineers, gas, liquid, infield work, joinery, laser, machining , manicure, mechanics etc
SCRATCH RESISTANT: ANSI Z87.1 Approved scratch resistant safety goggles Anti Mist Mechanics Quality Heavy Duty Anti Steam Adult Sign Safety Eye Protection Goggles Shield for Men, UV Protect Better Safety For Work Site PPE, Paint, Science, Acid with Low light Strap, Safety Liquid, Outdoor Work, dust, screw fix, soldering, railway , acid chemistry, fabrication, respirator, work salon, frying, surgery, sawfly, shooting, slimline, workshop
OVERGLASSES FOR WORK: Side Open Design Black UV Protection Dust Fog Free Safety Protective Goggles Allow Customer to Use Over Own Glasses for Paint Worker, Gardeners, Chemistry Acid, Construction Industry, Wind proof, Woodworking etc
SUPERLIGHT & COMFORTABLE: 0.35OZ lightweight safety glasses, made of premium material for lab,factory,warehouse and outside cycling,construction work, anywhere need to wear PPE eyewear
QUALITY WARRANTY: We are Convinced of our Quality and Would Therefore Like to offer 30 Days Money Back and Quality Warranty, Apply to all SAFEYEAR DIY Eye Impacted Safety Goggles Work Goggles Over Safety Glasses
Pros:
Anti Fog – Really important for best use
Meets ANSI standards
Light In Weight
Keeps out dust and debris
Cons:
Your eyewear size may impact ability to wear these over them
If you would like to purchase – You can purchase from Amazon here.
---
Face Shields
Face shields are not a new idea in the realm of eye protection in your wood shop. They are great at providing protection from flying debris when cutting wood material, such as a chuck of wood flying.
I kind of looked at Face Shields as the added protection when needed and potential debris will occur. Additionally, it won't interfere with the current safety glasses you wear.
It should be noted however, the Face Shield does not form any seal around your face and is completely open on the bottom.
If you would like to have the added protection for those specific functions such as, wood work which potentially causes chunks of debris, or metalwork that will cause sparks, the Face Shield is an excellent choice to protect you.
If you are interested in purchasing a highly recommended Face Shield you can see our recommendation below.
Lincoln Electric OMNIShield Professional Face Shield | High-Density Clear Lens | Premium Headgear | K3750-1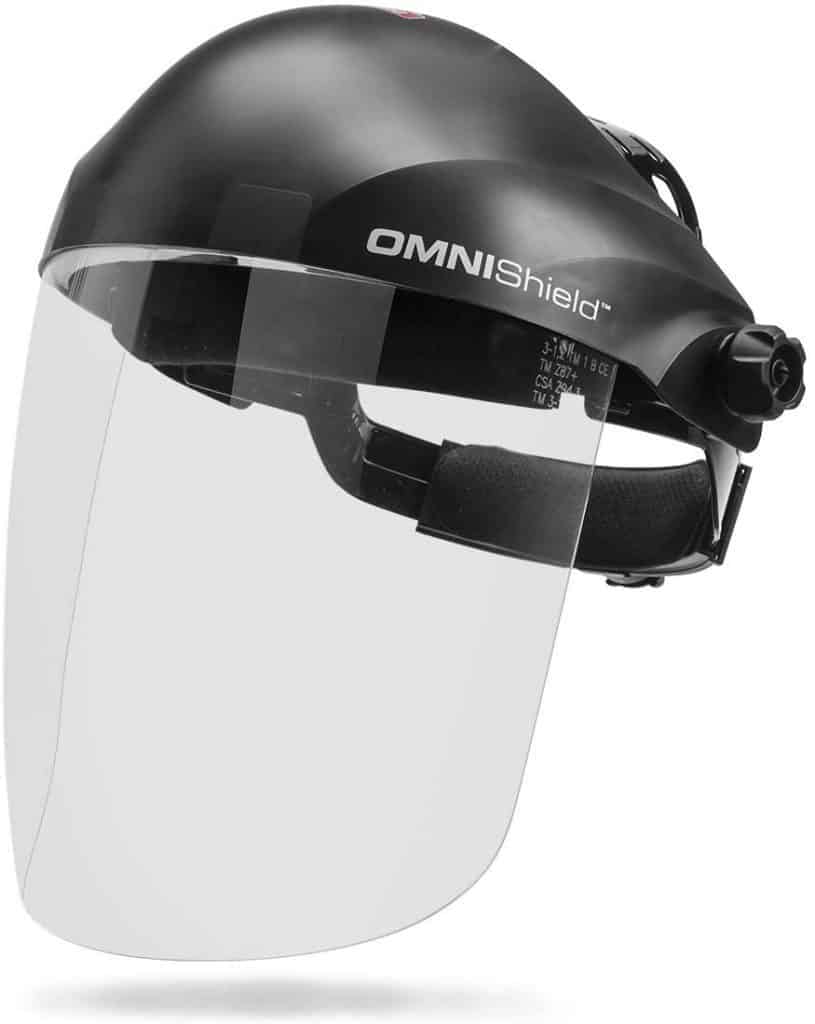 IMPACT PROTECTION – High density clear polycarbonate lens is 190% thicker than a standard face shield (0. 077″ vs 0. 040″) for enhanced protection.
SUPERIOR COMFORT – Cushioned front and back headband eliminates pressure points and evenly distributes face shield weight. Unique shell & lens profile contours to the head and neck to deflect impacts.
ADJUSTABLE FIT – The modern headgear allows you to adjust face to lens distance, tightness / looseness, top of head fit and more to ensure comfort.
VERSATILITY – The Omni shield headpiece is compatible with multiple lens types as well as hard hat adapters for use in industrial environments.
Certified to meet Z87. 1, CSA Z94. 3, EN 166 and AS/NZS 1337. 1 compliance standards.
Pros:
ANSI Approved
Adjustable
Comfort padding
Cons:
Weight of shield may be a concern
If you would like to purchase – You can purchase from Amazon here.
Specialty OTS (Over the Spectacle) – Bifocal Safety Glasses
If you are wearing prescription glasses, especially mostly for reading, do you have an option for safety glasses? Yes, you do. We know that most of your prescription glasses are not rated for the safety standards and can be more detrimental than good if something should hit them in the wood shop.
Here we would suggest Specialty OTS (Over The Spectacle) safety eyewear. Much like purchasing reading glasses in your local store, these offer the same reading capability with the safety of eyewear you can use in your wood shop.
A second bonus for these types of safety glasses is they can be used if you are doing any type of small detail work and need protection plus the capability of safety bifocals.
If you are performing woodwork in your wood shop and want the added benefit of bifocals you and use ANSI-approved safety glasses. Below is our top recommendation for this purpose.
FastCap Bifocal Safety Glasses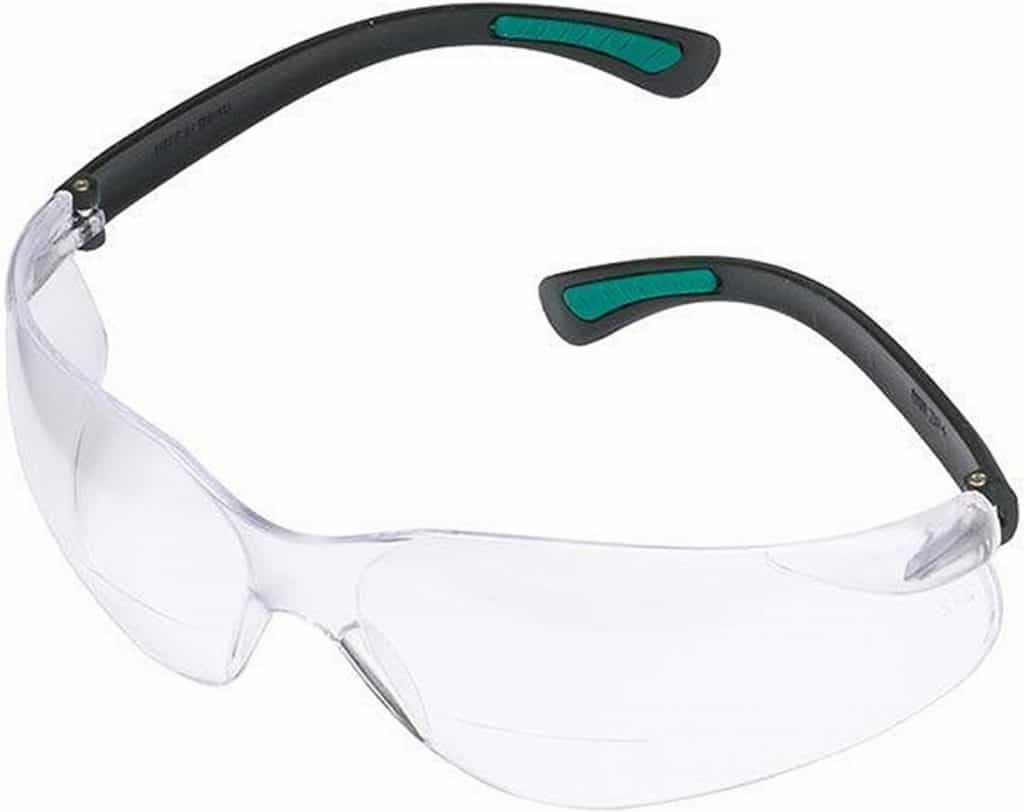 Bifocal Safety Glasses
Adjustable frames
Anti-fog coated lenses
Shatterproof wrap around lenses
Comfortable design
Pros:
Available in multiple magnifications
Easy to us
Comfort
Cons:
Will not provide protection from dust
If you would like to purchase – You can purchase from Amazon here.