Working in a wood shop comes with many hazards and noise levels are definitely one to consider. I wanted to research and provide you the best information to help you determine the best solution for you to use to protect your hearing.
There are several factors to protecting your hearing from permanent damage. Your goal is to limit exposure, keep a distance if possible, use protection, and keep the decibel level below 85 dB as this is where permanent damage in your hearing occurs.
The most important thing to consider for ear protection is the decibel (dB) level impacting your ears. Most woodworking tools operate at levels above 85 dB. A good example of this is the common shop vac generally generates 90 dB, which is shocking. You need a solution to protect your hearing.
---
Why Hearing Protection Is Important And What You Should Know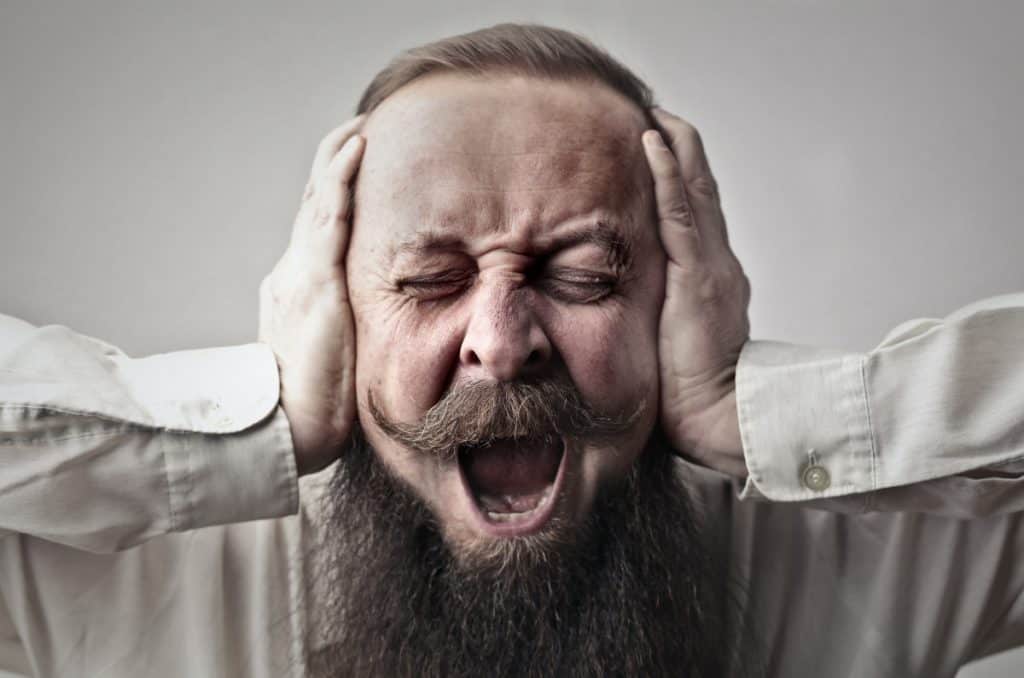 As we work in our wood shop we have many things to consider. Safety, dust, power, and tools are just a few of the considerations we think of when it comes to safety. Shockingly hearing loss has become one of the most frequent hazards in the workplace according to the American Tinnitus Association.
GREAT GIFT IDEAS!
Interestingly, we don't consider the noise level in our wood shop enough when we think of safety. With longer exposure to sound levels above 85 dB the chances of permeant hearing loss increase. In other words, Noise-Induced Hearing Loss (NIHL) can be more prevalent over time creating a myriad of problems.
Most woodworkers who are continuously experiencing dangerously loud sounds may find they are afflicted with a constant ringing in their ears, medically known as tinnitus. Tinnitus affects up to 15% of the population, many of who had exposure to loud noises at work. Tinnitus is not always caused by exposure to loud sounds it is most definitely expanded by exposure to sounds above 85 dB.
Be sure to get the total protection for your wood shop by looking at our articles on Should I Wear Eye Protection and Should I Wear A Dust Mask For Woodworking
---
Woodworking Tool Noise Levels – How Much Is Too Loud
Let's take a deeper look at some of the tools and the noise levels they produce. We work around these tools all day in our wood shop and most likely don't think about the noise level they produce. To be honest some of these I was quite shocked to see.
| Examples | Noise Level (db) |
| --- | --- |
| Normal Conversation | 60 |
| Electric Drill | 88 |
| Shop Vac | 98 |
| Table Saw | 100 |
| Loud Rock Music | 115 |
| Jet Airplane | 140 |
Granted not all of the examples above relate to woodworking. However, I wanted to show some examples to which you may relate. Knowing that 85 dB is the threshold for hearing damage and how long you may spend in a wood shop to complete a wood project. How long would it take to damage your hearing at these noise levels?
---
---
Noise Rate Reduction (NRR) – What Is It And How To Use Effectively
According to OSHA (Occupational Safety and Health Administration). "If you need to raise your voice to speak to someone 3 feet away, noise levels might be over 85 decibels". Each hearing protection device we use has a Noise Rate Reduction (NRR) rating.
These ratings help us judge the amount of hearing protection which you would need to effectively protect your hearing. As you look at products for hearing protection you will want to pay attention to the NRR.
The unfortunate thing is each environment is different and it makes it harder to judge the noise level so you can purchase proper ear protection unless you use a sound meter. To help you with your selection I recommend you look at the tools, environment, and other factors which will be used in your wood shop.
To effectively provide ear protection in your wood shop consider the above and always wear hearing protection devices that will protect you at all times.
---
Ear Protection Woodworking – Types of Hearing Protection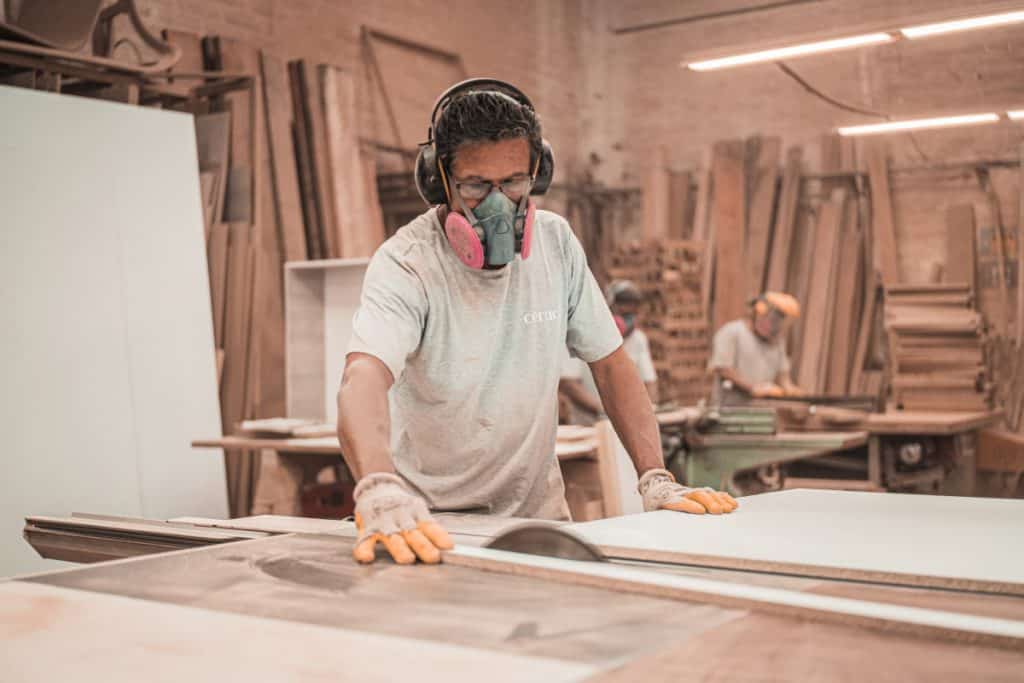 There are many types of hearing protection which you can get on the market today. The real questions are what are they and how effective are they. To truly answer these questions let's break down the different types of hearing protection you will want to consider in your wood shop.
Ear Muffs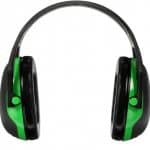 The most common type of ear protection is earmuffs. They are practical and very well known. As well as providing a very good NRR (Noise Reduction Rating) they are easy to place on your head and also easy to spot when you put them down. However, not all ear muffs are created equal and provide the ear protection you are looking for when working in your wood shop. Additionally, the typical ear muffs are heavy and hot as well they totally cut off your connection with the outside world when using them.
**NRR 24 – 37db
Now I'm not saying that these are a bad solution. I use these myself with great success. However, I wanted to show you that they come with some considerations you need to take into account.
For example, if you work in a wood shop that has a lot of people moving around, woodworking machines running all around you, or material being moved around you, the ear muffs sometimes will totally cut your ability to see the hazards which may be around you, hence cause safety issues. This would be because you are totally cut off from things around you and you would suddenly turn and there is your hazard.
In my wood shop I typically work by myself or with one other person. The layout is not that complicated and allows me to enjoy the use of the ear protection provided by the earmuffs. Although sometimes the other person does come up and tap me on the should and catches me off guard at times.
New innovations have come to the original boring ear muffs. Instead of the typical no-frills ear muffs, they have added in features such as Bluetooth connections for music, podcasts, or your favorite book.
These next-gen ear muffs have really taken off and they provide the function of great hearing protection as well as entertainment.
---
Plugs – Foam Plugs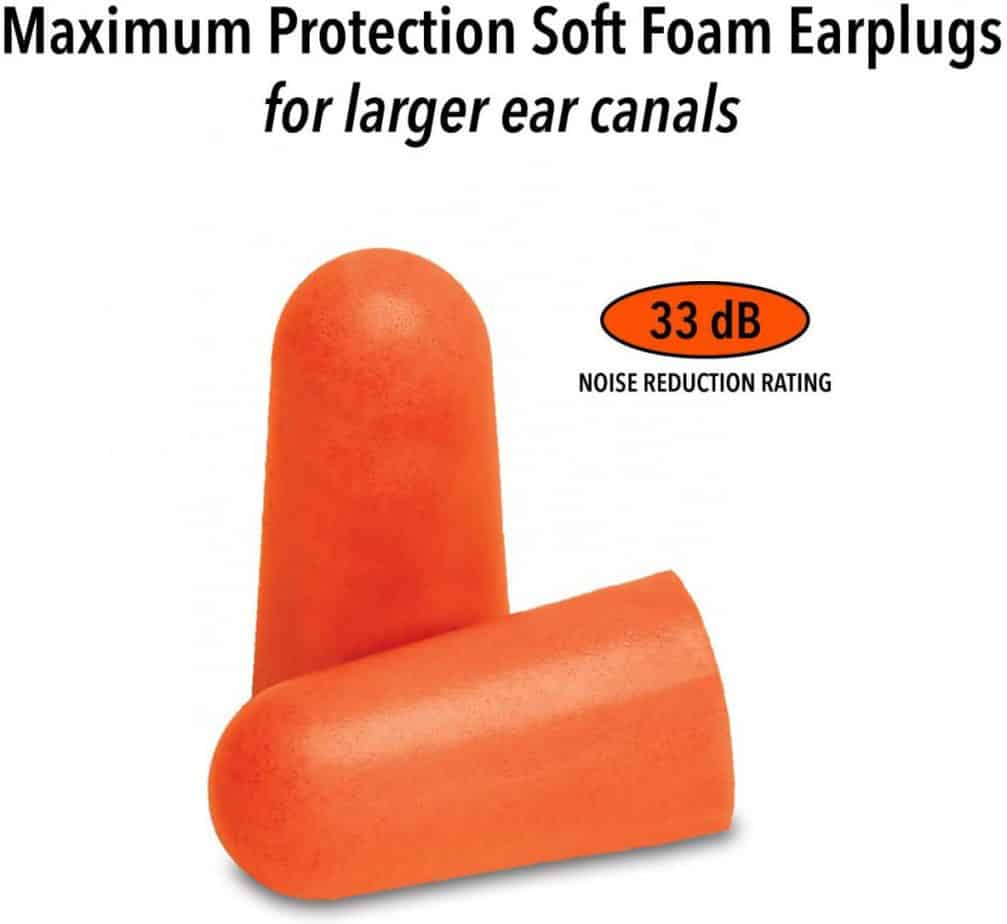 Foam plugs are the best solution for working in your wood shop. The NRR is really good and you can get them in bulk or a pair of reusable foam plugs. They are highly recommended and would serve you well. There are some downsides to foam plugs for you to think about. They do have a tendency to make you sound like you are in a sound booth. Additionally, when not using them they are really hard to find. Another consideration is when using the reusable product they tend to lose their elasticity after a while.
**NRR 12 – 31db
I like the foam plugs and have used them here and there. They are a great solution. However, I would suggest you may want to look at the newer high-tech version of the earplug. They typically come in silicone and don't require you to squeeze and roll them prior to inserting them into your ears.
They have a better NRR than the typical foam earplugs and their longevity is definitely longer. Lastly, they clean up some much easier. I will provide an overview and links below for your consideration.
---
Bands – Hearing Bands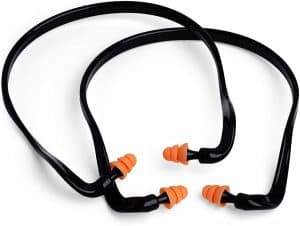 Hearing bands have come a long way from the days of two foam plugs on a string. However, if you still want to use them they still are available. They are used a lot in some industries, however, in the woodworking realm, they seem to have lost their place, until recently. The hearing bands are popular due to the ease of use by simply putting them in your ear when you need them and then pulling them out and simply placing them on your shoulders when you don't need them. This ease of use is one of the characteristics that make them so popular.
**NRR 26 – 31db
The recent rise in popularity is due to recent new innovations. Instead of the typical foam plugs, they now have the new silicone plugs making them more appealing.
Be sure to get the total protection for your wood shop by looking at our articles on Should I Wear Eye Protection and Should I Wear A Dust Mask For Woodworking
---
Recommended Hearing Protection for Woodworking In Your Wood Shop
---
#1 – 3M WorkTunes Connect Hearing Protector with Bluetooth Technology, 24 dB NRR, Ear protection for Mowing, Snowblowing, Construction, Work Shops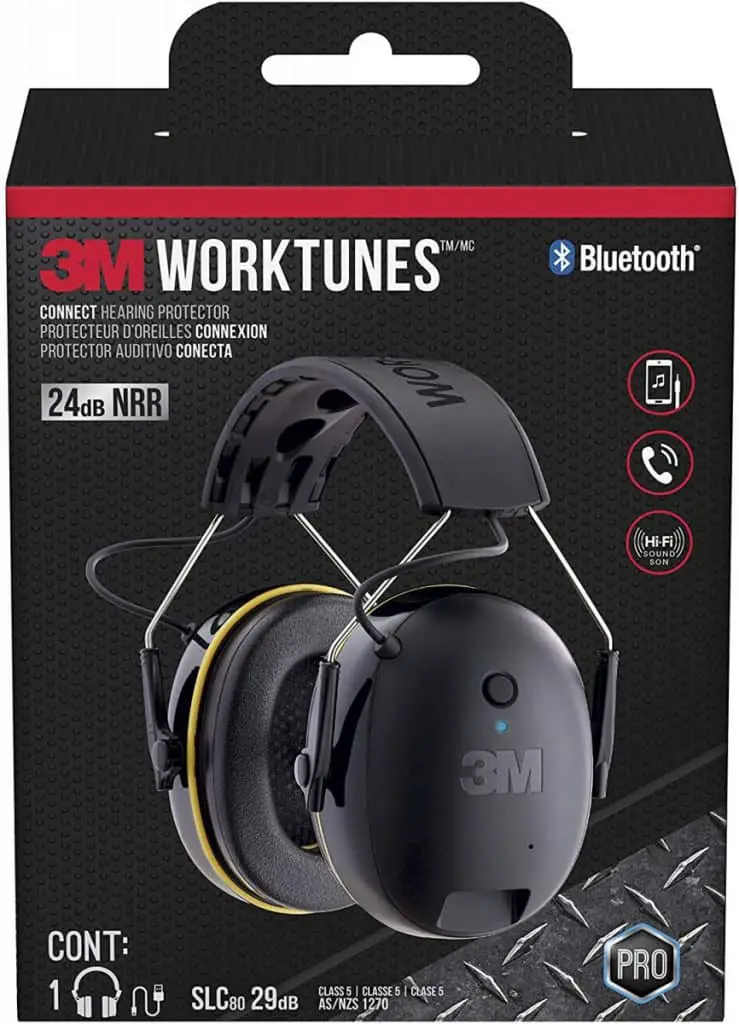 NRR of 24 dB (Noise Reduction Rating)
BLUETOOTH TECHNOLOGY lets you seamlessly stream entertainment from your mobile phone and any other Bluetooth enabled device
HIGH-FIDELITY SPEAKERS provide premium sound quality
INTEGRATED MICROPHONE lets you make and take phone calls without removing the hearing protection
CORD AND ANTENNA-FREE design lets you move easily on the job
Pros:
Comfortable and easy to use
Can hand anywhere
Easy to charge
Connect to any Bluetooth for music, podcasts, or radio stations
Light weight
Cons:
Bulky
Can sometimes be hot
If you would like to purchase – You can purchase from Amazon here.
---
#2 – Reusable Silicone Ear Plugs – ANBOW Waterproof Noise Reduction Earplugs for Sleeping, Swimming, Snoring, Concerts, 32dB Highest NRR, 3 Pairs with Bonus Travel Pouch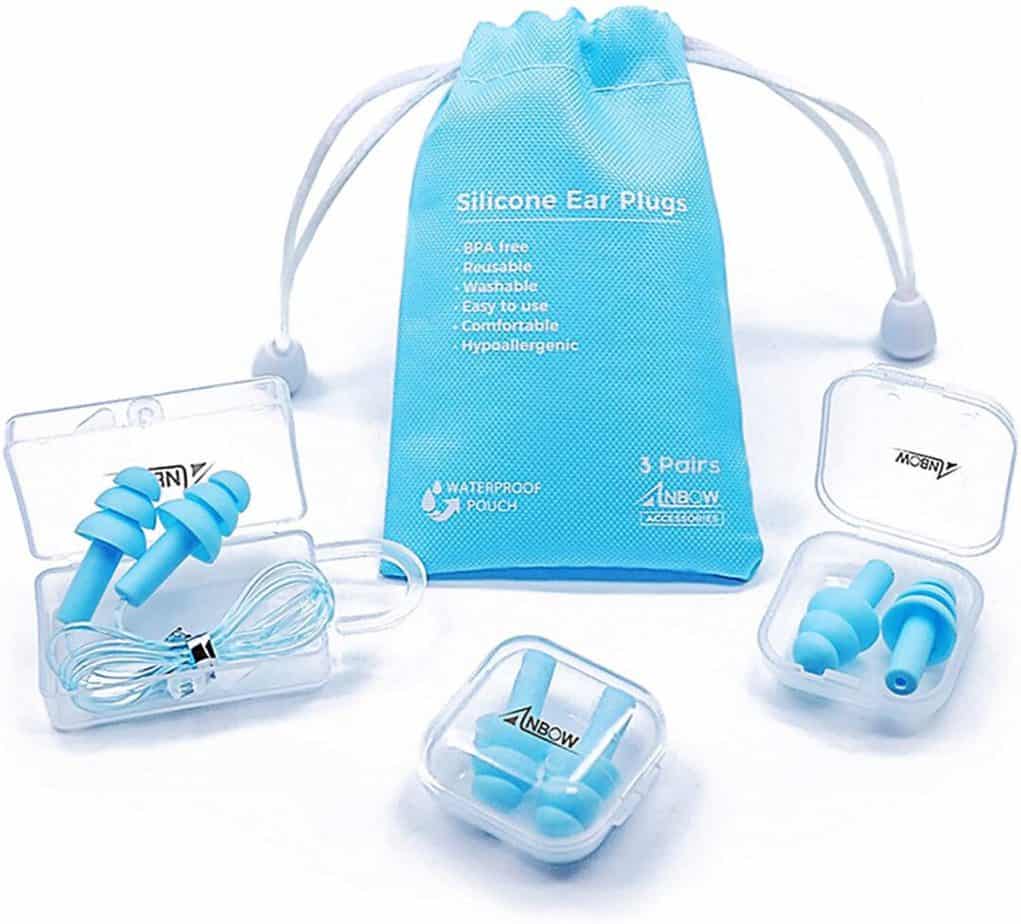 IMPRESSIVELY NOISE REDUCTION ABILITY & EAR PROTECTION: The high noise reduction level NRR 32 (Noise Reduction Rating) ensure to protect your hearing from loud noise, also you can leave the silicone ear plugs in your ears while you take a dive into a swimming pool and enjoy a few hours of the swimming session.
SAFETY SILICONE MATERIALS: Made of high-grade silicone material, They are BPA free, washable, reusable, and safe to use, means that you can use them for as long as possible. Soft surface enables no paining or any discomfort. ANBOW earplugs will serve you for years.
COMFORTABLE & EASY TO USE: Due to the ultra-soft material and ergonomically designed shape, the noise cancelling ear plugs can fit your ear perfectly, you will enjoy with them in every moment. They're also extremely easy to set, unlike the foam types, just spin and insert, ANBOW silicone earplugs will start to work without waiting for seconds.
CAN BE WIDELY USED: ANBOW silicone ear plugs can easily block all types of noise. They are the best for factories and commercial areas, construction sites, flying and travel, sleeping, swimming and other water sports, concerts and live music, and they are also great for many other locations, situations, and activities.
YOU WILL GET MORE: The earplugs are individually packed in a plastic storage box, no more worry to lose them. Bonus WATERPROOF POUCH can easily holds 2 pairs, for convenience to travel and outdoor use. One extra pair in the pack in case of missing any pair of them.
Pros:
Multiple Use
Easy to use
Doesn't interrupt when wearing eye protection
Light weight
Easy to clean
Cons:
May not fit all size ear canals
If you would like to purchase – You can purchase from Amazon here.
---
#3 – 2 Pairs Soft Banded Silicone Reusable Washable Ear Plugs for Sleeping Swimming Noise Hearing Protection Earplugs Music Concerts Construction Shooting Hunting Motor Sports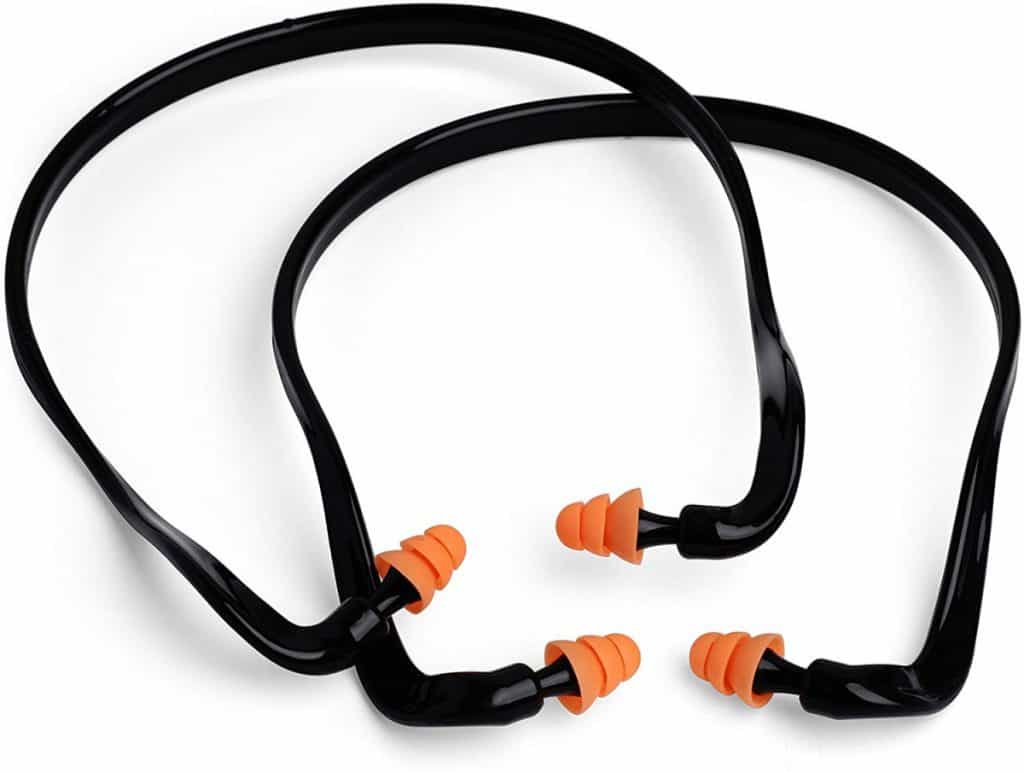 PERFECT NOISE REDUCTION – Provides Max Noise Reduction For The Peace, Quiet, and Sleep You Deserve! Perfect For Snoring, Shooting, Yard Work, Concerts, And All Other Loud Activities! NRR: 29dB
REPLACEBLE WASHABLE EAR PODS – silicone pods can be washed or replaced with brand new ones
INDIVIDUALLY WRAPPED – each pair of banded earplugs is individually wrapped.
CONVENIENT HEADBAND – our headband rests comfortably around neck when away from noise.
SOFT NON TOXIC SILICONE – High quality SMOOTH soft silicone making them PLEASANT TO WEAR, NON TOXIC material so they are SAFE to use
Pros:
Include silicone inserts
Easy to use
Doesn't interrupt when wearing eye protection
Light weight
Easy to clean
Cons:
If you would like to purchase – You can purchase from Amazon here.
---