Woodworkers always have dust to deal with, it is inherent to the environment we work in. Wearing a mask capable of protecting you from inhaling the dust is paramount. Of course, you will want to eliminate the dust at the source as much as possible, however, it is not a fix-all solution so you need to wear a mask.
Wearing a wood dust mask is crucial to protect you from inhaling woodworking dust. Sanding, cutting, routing, and more are hazards in your wood shop. Even staining or painting can cause hazards for you. The proper mask protection is crucial for you to avoid hazards.
Here I wanted to look at the different types of masks and the risks posed by not wearing a proper wood dust mask. Although it seems common knowledge to wear a mask during the time working in your wood shop it should be noted you should be wearing a proper wood dust mask which actually protects you.
Wood Dust Mask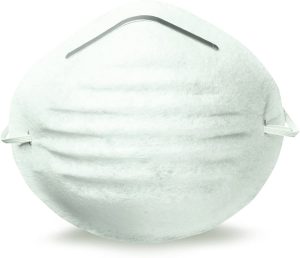 You are in your wood shop and you are excited to get started on your next wood project. You have your wood dust mask with you and start to work on your wood project. Are you really protected with the current wood dust mask you are using?
GREAT GIFT IDEAS!
What is a dust mask? A dust mask is used to place over your face and protect you from particulate dust floating in the air, mostly dust that you cannot see.
The best scenario is to eliminate the wood dust from its sources, such as a dust collection system on the woodworking tool or even an air filtration system that will remove particulate dust from the air you breathe. Both of these solutions are effective in removing from the wood shop in general, however, the dust mask is still the predominant dust protection.
There are so many different types of wood dust masks on the market today how do you know what is the best for you. Let's take a look at what you need to consider for the best wood dust mask.
Be sure to get the total protection for your wood shop by looking at our articles on Should I Wear Eye Protection and Should I Wear Ear Protection.
---
What Dust Mask Is Best For Woodworking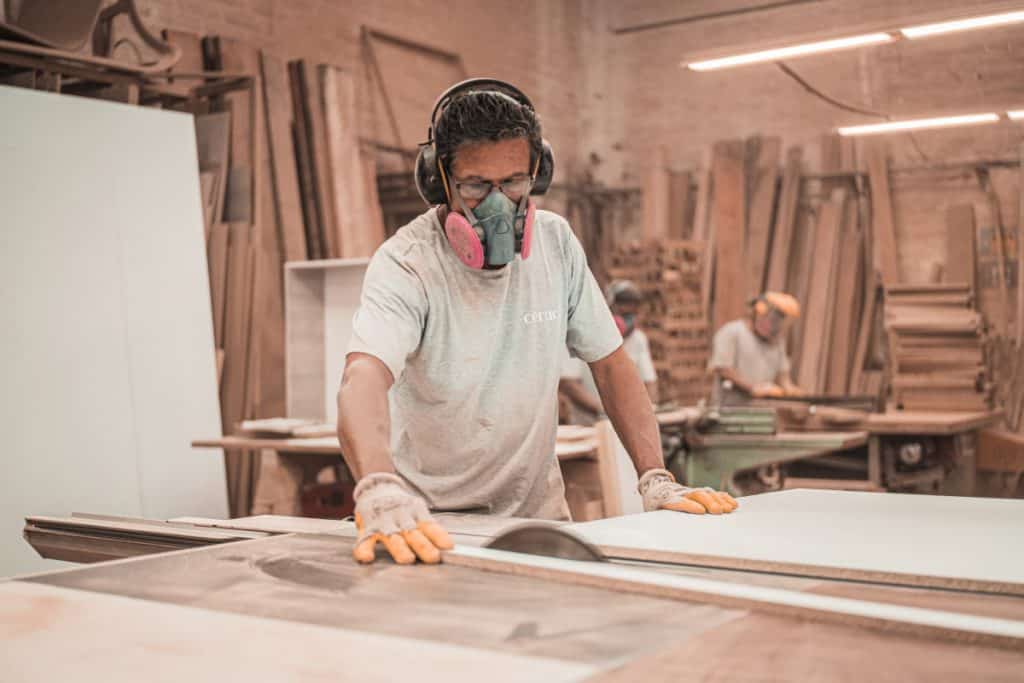 To understand the best type of dust mask for woodworking you need to understand FFP (Filtering Face Piece) classes. According to Wikipedia is states – "EN 149 defines three classes of such particle half masks, called FFP1, FFP2 and FFP3, (FFP = Filtering Face Piece) according to their filtering efficiency."
Let's break this down further by showing you the levels of the FFP's we will relate to woodworking dust in your wood shop.
| Class | Filter penetration limit (at 95 L/min air flow) | Inward leakage | Typical Elastic Band |
| --- | --- | --- | --- |
| FFP1 | Filters at least 80% of airborne particles | <22% | Yellow |
| FFP2 | Filters at least 94% of airborne particles | <8% | Blue or White |
| FFP3 | Filters at least 99% of airborne particles | <2% | Red |
Looking at the above chart you can see most of the dust masks bought have the yellow elastic band and do pretty well however there are better ones collecting the fine dust particulates in your wood shop.
Let's look at the detail per level to give you the best insight on each level and help you with your consideration on which is the best for you.
FFP1 – Dust Mask (Basic)
This is the basic dust mask. This level offers the least protection compared to the other models.
FFP1 Dust Mask consists of the smallest amount of filtration in material and the very smallest breathing resistance (which may be important for you).
FFP2 – Dust Mask (Next Level)
This type of dust mask provides moderate levels of protection.  The elements that it will protect you against include hazardous fumes and mists.
The FFP2 Dust Mask will sometimes have an exhalation valve due to the fact it may have a high breathing resistance.
Many of these classes of dust masks feature the activated charcoal layers, which assists them in maximizing their protection for softwood dust.
FFP3 – Dust Mask (Top Level)
This is the top mask for wood dust in your wood shop and provides the highest and best level of protection.
Protects from fine toxic particles. The filter which this mask is made of is often thick and includes an exhalation valve.
As you can see the levels of protection defined here definitely help you in your search for the proper dust mask to where in your wood shop and during your woodworking projects.
The recommended level is FFP3 as it has the maximum protection against all of the particulates which you may encounter such as fine dust, stain, and sealer fumes.
---
What Is A NIOSH Approved Dust Mask
These types of masks are ones that have been certified by the National Institute of Occupational Safety and Health (NIOSH). These dust masks use the NIOSH ratings with them and will come with numbers and letters such as N95, N99, or N100.
These masks are the most common you will see on the market and can also be used to gauge your rating to the type of wood working you will be performing and the best protection.
---
Dust Mask vs. Respirator
There are some misconceptions when it comes to a dust mask versus a respirator. What are the main differences and how can that help you choose the best one for your wood shop.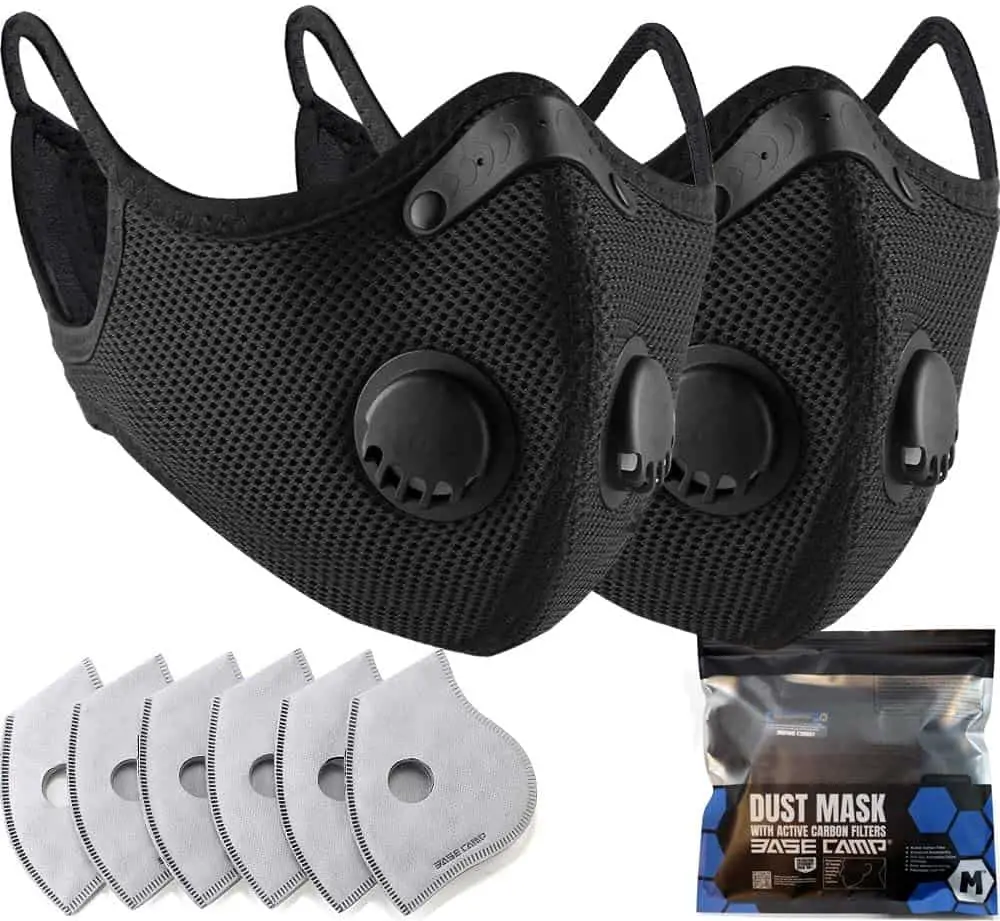 A basic dust mask is a great choice for your wood shop and should be used for sanding and cutting wood materials. It provides the protection needed for wood dust. This is the most common type of mask you may find in the woodworking industry. It also is the least restrictive to normal breathing as well is easy to use. They may or may not come with a filter insert and may be disposable.
---
The basic dust mask for your wood shop is a must and will provide protection for you on the majority of the woodworking tasks you will perform.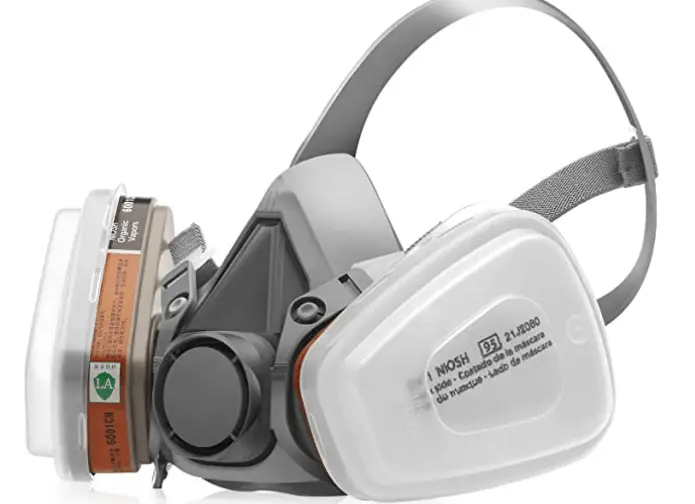 Respirators are used in woodworking more for areas where you may use sprays for sealer or stain. Spraying your sealer is very efficient and will cause it to be airborne. The respirator will definitely help protect you from the fumes given off by that activity. As well respirators can benefit you well in your wood shop if you are performing a lot of wood cutting as many fine particulates will be in the air, especially if you cutting treated wood as the treated wood contains chemicals.
Respirators are mainly different from dust masks due to the level of filtering, tighter fit to your face for protection, and includes better adjustable straps to ensure a tight fit.
Additionally, the dust masks typically will not have the NIOSH mask approval. Most dust masks are disposable filtering pieces that are best used for non-toxic particles.  
Respirators will contain a NIOSH approval and filter rating which will indicate their efficiency. This will be reflected by way of a number and letter on the filter.
---
Recommended Dust Masks
#1 – BASE CAMP M Plus Dust Mask 2 Pack with Extra 6 Activated Carbon Filters for Woodworking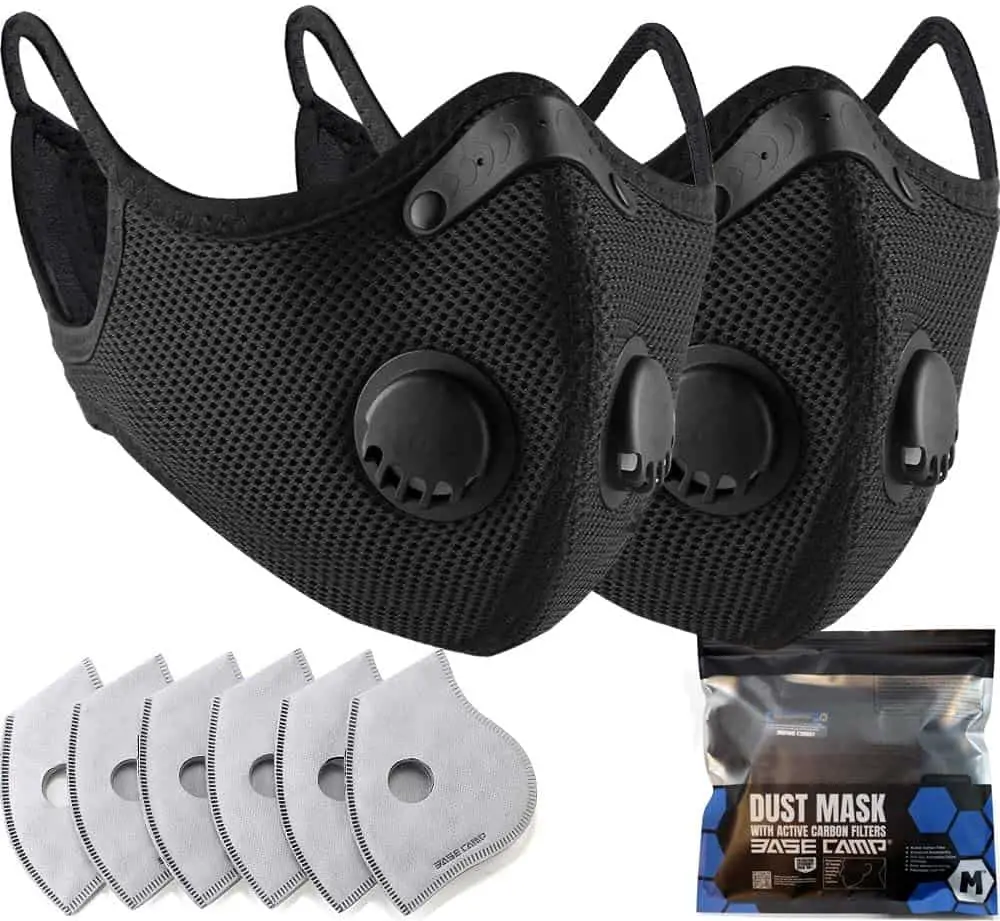 Nylon, Melt-blown with EAPI Filter Technology
6-Layer Comprehensive Protection: BASE CAMP M Plus face mask is the third generation of BASE CAMP mask. Adopted EAPI filter technology and Advanced Nanotechnology, the 6-layer filters can filter out 99% exhaust gas, pollen, dust, particles and smoke, etc. Provide reliable protection for daily use.
More Breathable & Comfortable: High-quality mesh materials, which is 11.3% more breathable, strengthens the ability of air circulation, dissipates heat, also reduces moisture inside to ensure smooth breathing. Meanwhile, its elasticity is 6.1% higher for wearing more comfortable.
Adjustable for Optimum Fit: Designed with adjustable hook and loop strap, which is friendly to adjust suitable size to fit most people for snugly fit. Enclosed AEB system helps keep the dust mask in place without slipping off from your head/face while relieve the pressure or pain in your nose and ears. Tips: Please refer to image 4 to take measurements before purchase.
Avoid Glasses Fogging: Enlarged one-way valves are 26.3% more efficient in exhausting of heat, water vapor, carbon dioxide, etc, which decrease humidity and keep filter performing high filtration. It works with flexible nose clip to seal the breathable face mask around the nose to prevent fogging. Make you get rid of the concerns of glasses fogging while working.
Reusable & Washable: The activated carbon filter is replaceable after time of usage, and the mesh face mask shell and valves can be detachable to wash by hand when get dirty.
Pros:
Easy to use
Doesn't fog up safety protection glasses
Washable & Reusable
Long lasting
Cons:
May not fit all sizes – refer to information on page for info
If you would like to purchase – You can purchase from Amazon here
---
#2 – 3M Half Facepiece Reusable Respirator 6300, Gases, Vapors, Dust, Paint, Cleaning, Grinding, Sawing, Sanding, Welding, Large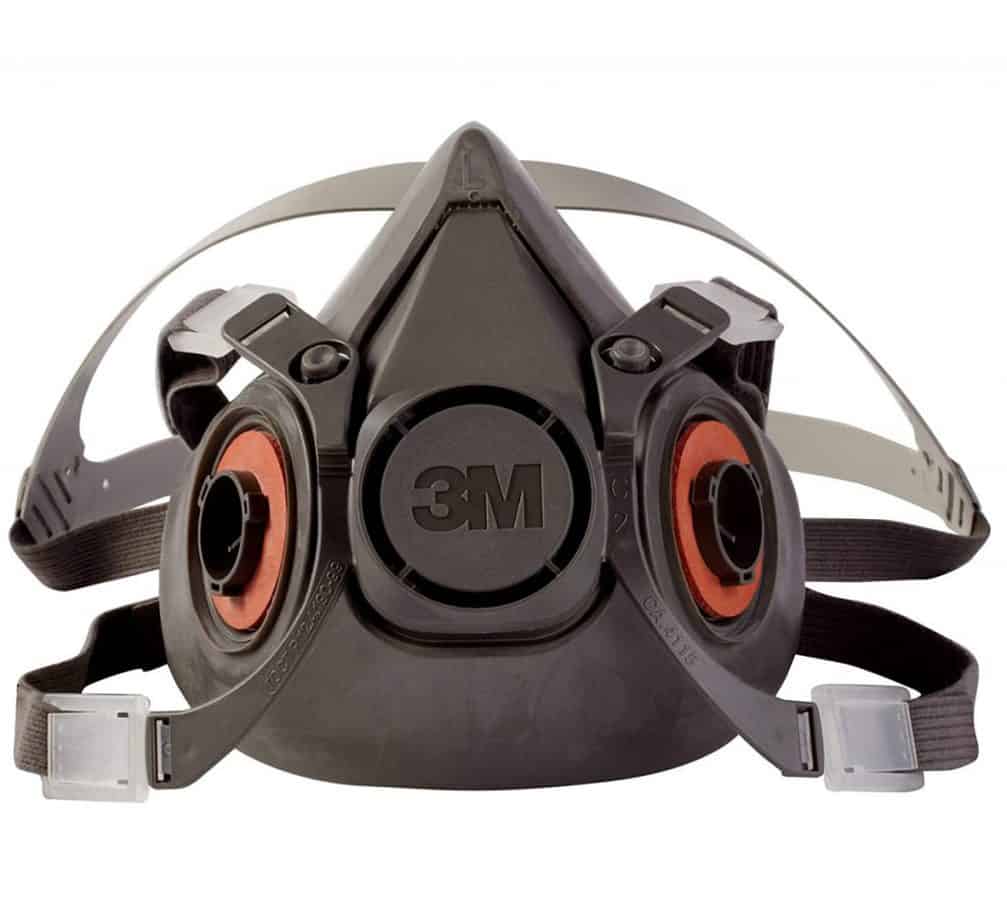 Comfortable: Soft, Lightweight face piece with easy to adjust head straps for a customized fit
Durable and Reusable: Respirator can be disassembled, cleaned, and reused; Supplied with Reclosable storage bag
Helps reduce exposure to particulates and a wide variety of gases and vapors when used with approved cartridges and filters
Use with Other PPE: Adjustment points located on the face piece for improved compatibility with other personal protection equipment
Applications: Chemical Handling, Chipping, Chiseling, Cleaning, Grinding, Machining, Masonry, Painting, Sanding, Sawing, Welding, Construction, General Manufacturing, Industrial Maintenance
Compatible: Bayonet connection is compatible with all 3M Bayonet style cartridges and filters
Pros:
Tight fit
Adjustable
Can use multiple cartridges
Easy to clean
Cons:
Need to purchased filters for your application
If you would like to purchase – You can purchase from Amazon here
---
Is It Dangerous To Sand Wood Without A Mask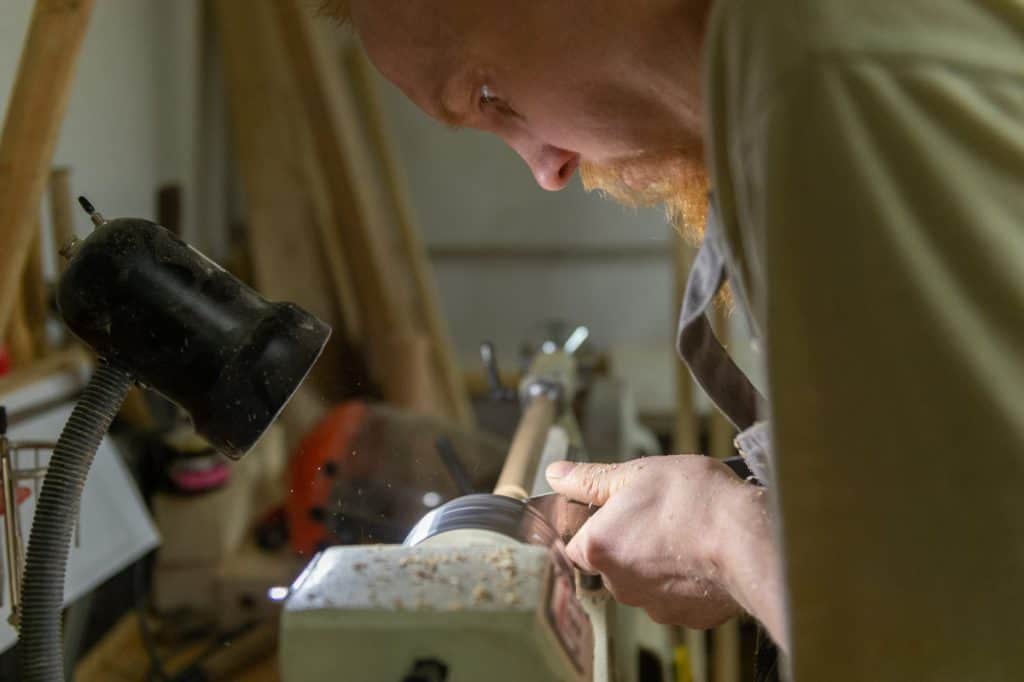 Working in a wood shop contains many hazards and wood dust is one of them. The wood materials we use for our wood projects contain chemicals that will impact you over time and can cause breathing health hazards.
Wearing a simple dust mask can help prevent the health hazards associated with the dust you can see and the fine dust floating in the air you most likely cannot see.
The use of dust collection systems, air filtration systems, and woodworking dust masks will greatly reduce the risk of you inhaling these particulates. So the simple answer is yes it is dangerous to sand wood without a mask.
Take every precaution you can to protect yourself.
Be sure to get the total protection for your wood shop by looking at our articles on Should I Wear Eye Protection and Should I Wear Ear Protection.
---
Is Painting Without A Mask Dangerous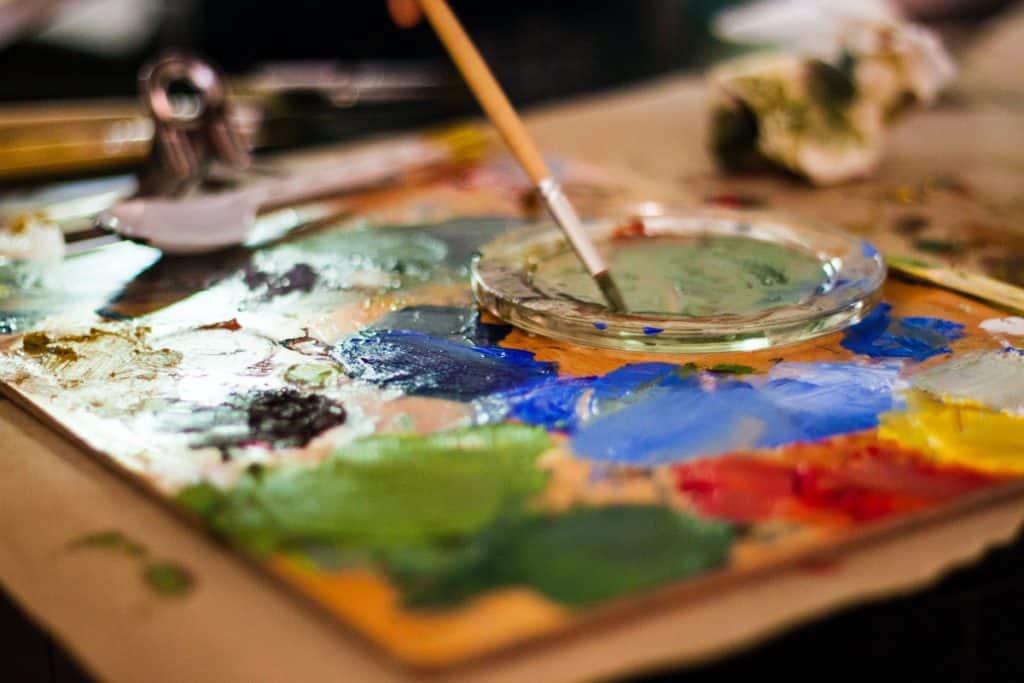 Depending on the wood working project you are working on in your wood shop we may use many different types of paint. This may range from aerosol paints to using a paintbrush. Each of these types of paints contains chemicals and fumes which would be hazardous for you to inhale.
As you spray paint to fill lettering or edges you would be greatly surprised to see how much gets into the air around you. Taking the proper care to wear a respirator rated for preventing you from inhaling these types of fumes is crucial.
With small steps like wearing the proper mask, you can enjoy the use of painting in your woodworking projects.
Should You Wear A Mask When Staining Wood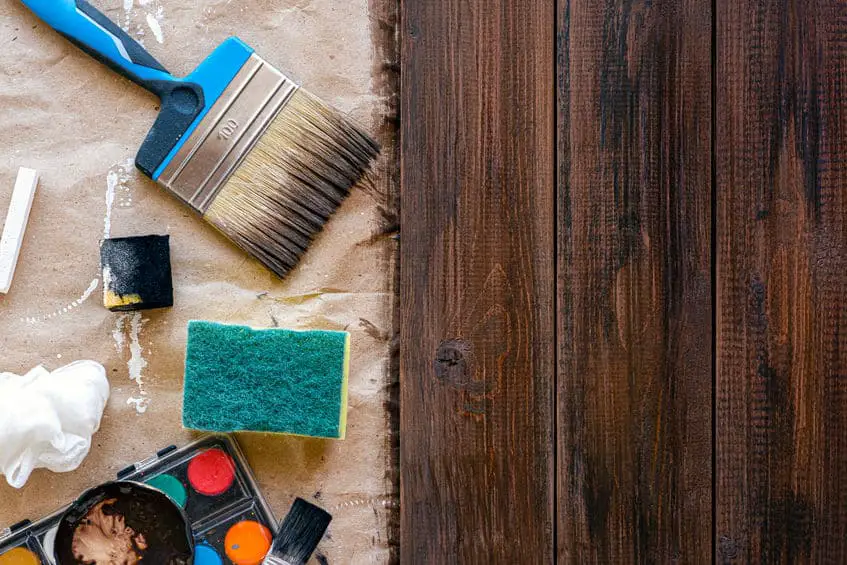 I have been asked this several times while performing my research for this article. Most folks see staining as using a brush and putting on the wood material or a hand rag for example to place on the wood material thinking it isn't splashing why would I need a mask.
The question I go back with is twofold. I understand most staining is performed used a rag or a brush however, what about the fumes which are coming from the stain. Depending on what type of stain you are using there are definitely fumes.
For example some wood stain options these days are Pre-Conditioner, stain paint, or just your regular stain. They all include fumes which are not good for you to inhale.
Additionally, what if your application method is not brushing or wiping with a rag but using a sprayer. Using a sprayer will definitely introduce the fumes from the stain into the air around you which you could potentially inhale. The general rule is if you question it even a little you will want to research the product and use a respirator.
Woodworking Dust Mask For Beards
If you have a beard and are a woodworker you there are a few other considerations you will need to think about while choosing the best dust mask for your wood shop. Of course, the primary concern is whether or not the dust mask would be effective.
If you have a short beard this may not be as much of a concern indifference to having a thick beard. The type of dust mask you consider will need to be effective from two perspectives.
Coverage of your face with a thick beard might be challenging. As you look through the products be sure to look at the sizes which are available. Generally, bigger size will benefit you the most. However, if you want the total solution and do not have to worry about the smaller dust masks you can choose a full-face type of respirator with a pull-down on the bottom.
These are available and will definitely provide full coverage for you. The downside maybe you will be using a full face dust mask which can be cumbersome, but the protection provided will be greater.