Wood routers are a great tool for shaping wood and can be found in many workshops. But if you don't have one, there is no need to worry! There are alternatives depending on what you are wanting to accomplish for your wood projects. From edges to joins or even creative wood carving there are other tools and techniques you can use to accomplish the same outcome.
There are many options and Wood Router Alternatives for your wood projects. Depending on what you are creating you can use other tools in your woodshop. A Dremel, Table Saw, and even an Orbital Sander can be used to create curved edges, joins, and dado cuts without the use of a Wood Router. Hand tools are also very nice for rounding and chamfering edges which are also normally done by a Wood Router.
Before the creation of power tools, such as the Wood Router, many wood projects included curves, edges, and joins. The ability of the woodworker to create them was limited only by the limits in their mind. Hand tools were mostly used and it is an art that is still practiced today. But if you don't have the hand tools or are not proficient in using them you will need to use what you have in your woodshop.
Before we get into the main alternatives to the Wood Router let's look at what a Wood Router is and use its capability to match to other tools you may already have in your woodshop.
GREAT GIFT IDEAS!
---
What is A Wood Router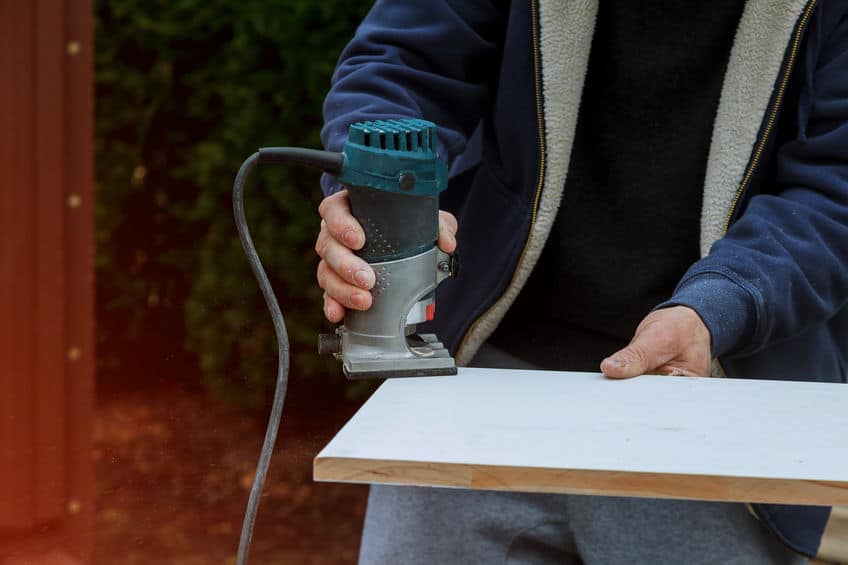 The wood router can do a lot more than cut fancy edges. It will also create the most perfect patterns in your workpiece, whether that be an edge or something else entirely! The main purpose of this tool is to rout out pieces for craftsmen and carpenters alike.
Wood routers are the most versatile tool for any woodworking project. Originally, they were hand-powered tools that evolved to become the electrically powered spinning routers of today. The original form was first presented as a hand tool with a broad base and narrow blade projecting beyond its base plate which has now transformed into an electric motor-driven modern power wood router with blades extending from it in different directions depending on what wood project you're wanting to complete.
Types Of Routers
Plunge Routers
Fixed Base Routers
Corded And Cordless
Combo Router Kits
Interestingly enough the Wood Router has come a long way to serve the woodworker in many capacities. With all of the options available it would seem that if you are a woodworker a Wood Router is one of the mainstays of your woodshop.
If you want to know more information regarding choosing a Wood Router you can take a look at our article – "What Router For Signs Making" here!
If you are a real DIY'er and hobbyist in your woodshop a Wood Router is definitely a tool you may want to consider getting and add its capabilities to your list of wood projects. I have used Wood Routers for years and highly recommend the below.
Recommended Wood Router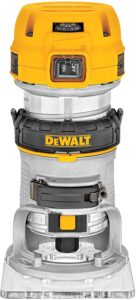 DEWALT Router, Fixed Base, Variable Speed, 1-1/4-HP Max Torque (DWP611)
Durable 1.25HP motor delivers the power to meet the toughest applications
Variable speed control feature enables bit speed to be optimized for changing applications
Soft-starting motor features full-time electronic feedback that maintains motor speed through the cut
Dual LED's and clear sub-base ensure maximum visibility in operation
Adjustment ring enables controlled bit depth changes to within 1/64 in.
The large, low-pressure spindle lock button allows for comfortable, single wrench bit changes
If you want to purchase you can get it on Amazon here!
---
What Can I Use Instead Of A Wood Router
If you want to know How To Route Wood Without A Router – here are four great alternatives to a Wood Router: the Table saw, Hand-Held Circular Saws, Orbital Sanders, or Jigsaws.
A Table Saw is always good for larger jobs and can be used in tandem with your other power tools when making intricate cuts on small pieces of lumber. They are also excellent for cutting Dadoes and joins which you would use a Wood Router to complete. Lastly, a Table Saw can be used to cut Chamfer edges and 45-degree cuts on the length and sides of your wood projects.

Hand-Held Circular Saws are flexible in that they can do angle cuts, dadoes, and joins as well. They have the option of many different types of blades which you can use for different options in cutting and grooving your wood projects. If you are on a budget this saw would be a great alternative to a Wood Router.

Jigsaws are a hidden treasure and are not widely known for replacing some of the functions of the Wood Router. A budget-minded woodworker will most likely already have one or consider one as an alternative to a Wood Router. Although the Jigsaw doesn't have the power of a Table Saw or a Circular Saw the Jigsaw is very flexible and can use different types of blades to cut wood material. Edges, cutouts, and dadoes are easily created with the Jigsaw.
---
How To Hollow Out Wood Without A Router
Hollowing out wood can be challenging but not impossible without a Wood Router. Depending on the species of wood and how much wood material you are wanting to remove there are several options for you to consider.
Hand Carving Tools – Using a hand wood carving tool with a wood mallet would be an excellent option. This would allow you to take out small slivers a little at a time shaping the curve and also judging the depth you want to achieve.

Dremel – If you have a Dremel and a core bore bit you can carve out the wood material. This tool would make it easier for you to remove the wood material and hollow with agility. The high speed of the Dremel and ease of handling the Dremel make it an excellent alternative to a Wood router.

Drill – A common drill has many purposes such as drilling holes. It can also be used with a core bore bit. The drill can act as a Dremel and hollow out the wood material. Although the handling of the Drill will be a bit more challenging this will hollow out wood material very well.
---
How To Make A Groove In Wood With A Drill
A Groove or Rabbiting is a channel that runs down the grain of lumber. It can be used to house drawer bottoms, door panels, and cabinet backs. They are the foundation for connecting wood projects. Creating these would typically be created with a Wood Router because they are very efficient and detailed. If you don't have a Wood Router here are some alternatives you can use to create them..
Table Saw – You can cut grooves cut into the wood on a table saw with a dado blade. You can adjust the width of the Groove that is needed. This will allow you to cut Stopped Groove or Through Groove needed.

Hand Chisel – Using a Hand Chisel you can hand carve the Groove into the wood material. Mark your Groove on the wood material and then use the Hand Chisel to slowly remove the wood material, chiseling the wood material out along with the grain.
---
Frequently Ask Questions About Wood Router Alternatives
How Do You Notch Wood Without A Router
Notching wood is the art of removing part of the wood material from both pieces of wood you want to join together. To remove without the use of a route you need to clearly mark the area you wish to remove. Then using either a Hand Wood Chisel or a Hand Saw remove the wood material. Be sure to clean out any remaining wood to make a clear corner for the best effect.
Can A Dremel Tool Be Used As A Router
A Dremel is a rotary tool and can be used for intricate carving. Its high speed and ease of use due to its small size make it great for detailed wood carving work. From this perspective, a Dremel is an excellent choice for replacing a router. However, if you want to remove a greater amount of wood material and need more power a Dremel is not the best choice. For removing more wood material a Wood Router is the better option.
Can You Use A Drill As Router
The general answer is no. Although certain capabilities can be accomplished with a Drill and a bit, such as a core bore bit to remove wood material in the same fashion as a Wood Router it isn't the best option. The Drill would not have the same rpm speed as a Wood Router and the ability to handle the Drill would be very difficult.