There are a lot of rotary tools on the market today. They come with different capabilities. Which one is the best? To determine which one is the best you need to know what purpose you are going to use it for or are you going to use it for multi-purposes.
Dremel products are excellent and provide great solutions, however, they may not meet your budget or what you actually need. There are alternatives to Dremel providing the same capability or better. Knowing what capabilities you need will help you determine the best alternatives.
During my research, I wanted to see if there are alternatives to the Dremel rotary tools. Some of them may be homemade or DIY and some of them may be a hybrid with Dremel and other tools. Either way, you need to know what are the top Dremel alternatives available to you.
---
What Are Best Dremel Tools And What Do They Offer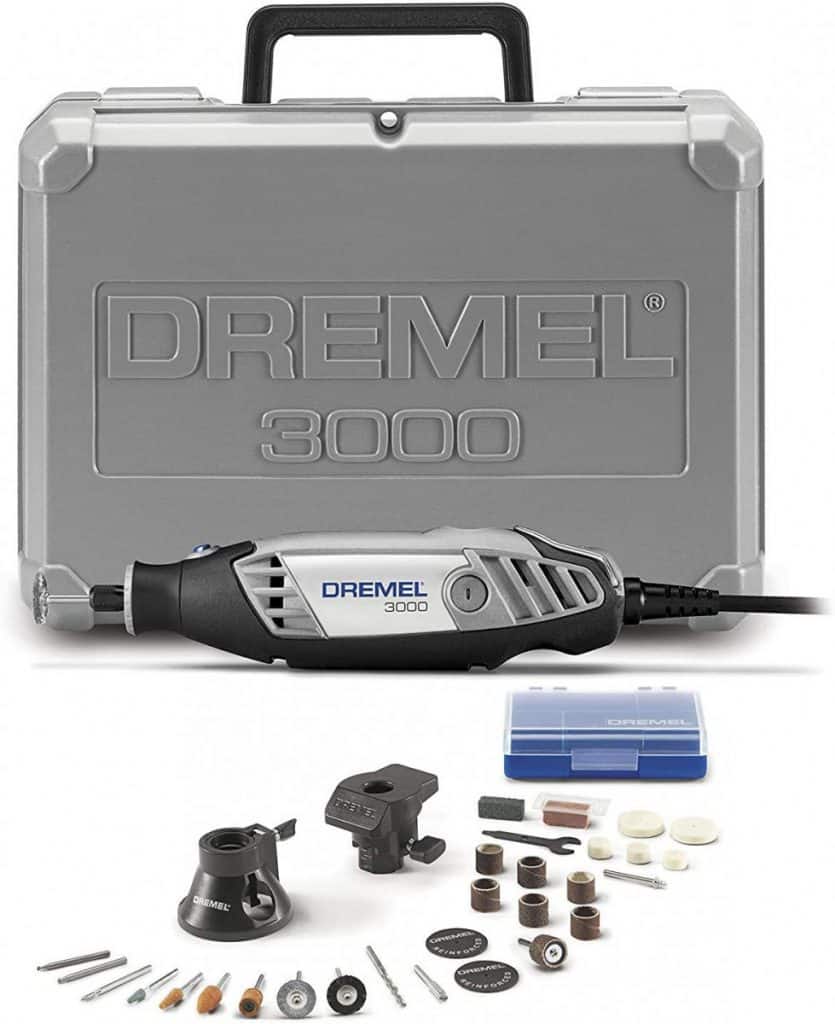 According to Wikipedia – "Dremel is an American brand of power tools, focusing on home improvement and hobby applications. Dremel is known primarily for its rotary tools such as the Dremel 3000, 4000, and 8200 series which are similar to the pneumatic die grinders…". The company was founded in 1932 and has introduced many rotary and grinding tools to the industry many of which are still used today.
GREAT GIFT IDEAS!
Dremel has been around for a long time and offers many tools which provide many solutions for rotary wood projects. This makes Dremel a good brand. Let's take a look at the most prevalent.
Dremel offers tools in the rotary, saws, oscillating as well as specialty tools which would benefit your woodworking projects. Let's take a look at a few of the woodworking tools in more detail.
---
Best Dremel Tool Models
Model
9100
Forti-Flex
4300
4000
Battery/Cord
Cord
Cord
Cord
Speed
0-35000
5000-35000
5000-35000
LED
No
Yes
No
Warranty
2 Year
2 Year
2 Year
---
| Model | 3000 | 200 | 100 |
| --- | --- | --- | --- |
| Battery/Cord | Cord | Cord | Cord |
| Speed | 5000-35000 | 15000-35000 | 35000 |
| LED | No | No | No |
| Warranty | 2 Year | 2 Year | 2 Year |
---
Model
2050
Stylo+
8220
8100
Battery/Cord
Cord
Battery-12v
Battery-8v
Speed
5000-22000
5000-35000
5000-33000
LED
No
No
No
Warranty
2 Year
2 Year
2 Year
---
As you can see from the above tables Dremel offers quite a variety of rotary tools and options for you to choose from. In fact, the name Dremel has become known as the standard for rotary tools.
To accompany these wonderful tools are accessories that can be used with these tools. Below I have provided a list of the different categories of accessories.
Sanding
Cutting & Scraping
Etching & Engraving
Routing & Drilling
Grinding & Sharpening
Cleaning & Polishing
Dremel offers many corded and cordless rotary tools which are essential to your home DIY projects. They can perform many functions such as a buffer, sander and cut through many materials like wood or metal. If you perform a lot of home DIY hobbies, crafts, or want to help with your fix-it projects at home Dremel has a tool that helps you.
What is the most powerful Dremel tool?
This is a common question asked and the answer from a raw power with control and high performance is definitely the 4000. With a 5,000-35,000 variable speed control and separate on/off switch. Combined with the high-performance motor, the electronic feedback consistently gives you maximum performance. Sand, grind, cut, and more on any material with consistent ease.
If you would like to purchase any of the Dremel tools and accessories you can see the full list of tools available from Amazon here.
---
What Can I use Instead Of A Dremel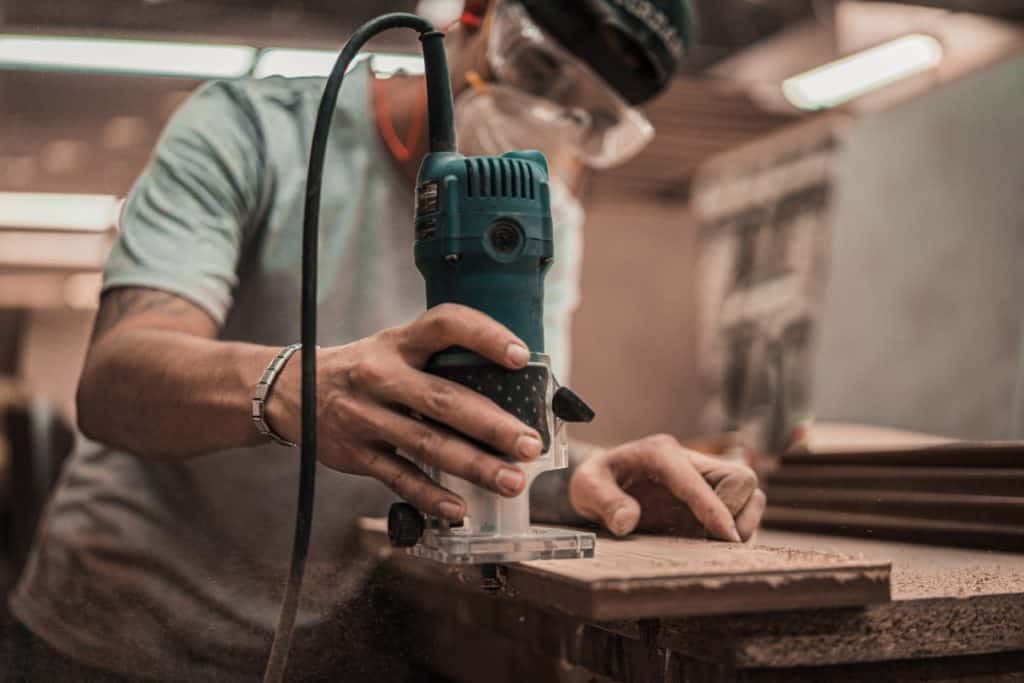 Although the Dremel Rotary Tool and its variations are popular products, the innovative features of other rotary tools can also expand your crafting possibilities. Things to consider are variable speed, number of accessories, speed, and weight.
These are important due to the capabilities you will get from your Dremel alternative. Additionally, you may want to look at other aspects which will benefit you. The budget may be a priority or the amount of flexibility the tool offers with its accessories.
Dremel Alternatives Woodworking Considerations
If you are looking at primarily using for woodworking or wood carving you will want to look at the type of bits you can use as well as the power you will have. As well as the ability to confidently handle the tool if you are performing intricate designs.
From a woodworking perspective, you will want to consider what you are using the rotary tool for. Removing material, edging, and detail design are common uses for your rotary tool.
Removing Material
Removing material is quite a broad term so I thought I would explain more in detail want I am referring to. A lot of woodworkers using the rotary tools will want to carve deep designs, lettering for example or for image carving. These are popular and are easily done with a rotary tool.
Depending on the wood material you will be carving you will want the power to carve. Pine for example is a softwood that can easily be carved. Oak is hardwood and will require a little more power.
Edging
Edging your wood project consists of using a bit that will provide a designed edge around your wood project. The question I would recommend is doing your rotary tool accommodates bits that will work for this function and yet still provide the capability of a smaller detailed design.
Detailed Design
This is the most common use most rotary tools. Carving detailed images and 3D images in wood. My recommendation is to consider the weight, ergo design, and the capability of the rotary tool to have a variable speed.
---
Let's look at an overview of some of the alternatives below with pertinent information.
---
Can A Drill Be Used As A Dremel
Looking at drills and rotary tools such as the Dremel I wanted to see if the drill can be used as a Dremel. Drills have come a long way and they come in different sizes, power, and options. It makes sense to think that it may be able to be used as a Dremel. However, there are several things to consider.
First, let's look at torque. Drills on the market today have a great amount of torque and can perform their functions (drilling holes and driving in screws) very well. However, does that do the job of a rotary tool such as the Dremel?
Most of the time the Dremel will be used for intricate jobs, sanding, polishing, and detail work. It really doesn't make sense to use a drill for these types of wood projects because it is overkill and more to the point with all that torque, the drill would not be easy to hold on to and most likely damage your wood project.
Next, let's look at speed. Although the drill has the Dremel beat when it comes to torque, it doesn't when it comes to speed. The purpose-driven rotary tool such as the Dremel utilizes speed to its advantage. The Dremel on most models will go up to 30,000 rpm versus the drill at 1,500. This is significant and will not work very well for your wood projects.
The conclusion is a drill can't replace the Dremel or like a rotary tool. Each is great in the performance of their designed purpose, however doesn't look good for swapping jobs.
---
Can Dremel Bits be Used with a Cordless Drill?
This is a question I've seen and the discussion is always interesting. Can Dremel bits be used with a cordless drill? Technically yes, they will fit into a typical drill chuck. But I think the bigger question to ask is will it perform better and as expected.
I would venture to say no. Although the Dremel bits would fit the drill it would not be efficient or work very well. The Dremel bits were designed to work with a very high-speed application and that is their comfort zone. The low-speed drill would damage not only a bit but not do well on the wood project you would be making.
Consider the specific design and application for the Dremel bits and the tool they were made for. Technically they would work, but do you want to damage the bit and the wood project.
Bottom Line: Dremel vs. Drill
Looking at both tools and what they were specifically designed for they work very well. However, I hope I have helped in your consideration in crossing them to a purpose they were not made for.
When we look at tools and their capabilities we purchase them for a purpose. I believe when you push the realm of the designed purpose, although it may technically work you need to consider the end result of the wood project you are creating.
Lastly, you will want to consider the wear on the tools themselves and how you use them. Safety of course is the primary thing to think about, however, if we don't use the tool for its intended purpose we risk damaging the tool and having to replace them which will affect our budget and that is a big consideration as well
---
Which Rotary Tool Is The Best

After a review of many rotary tools, I narrowed the consideration down to a few categories. Power, versatility, and price were the top considerations for my recommended pick for the best rotary tool.
The best rotary tool for power, versatility, and the price is the WEN 2305 Variable Speed Rotary Tool Kit.

---
With the capability of Cutting, Engraving, Grinding, and Sanding this rotary tool and kit is an all-in-one solution. It has the power to tackle all of your needs as well it comes with the package when purchased. You can get started quickly for under $30.00.
---
What is included in the kit when you purchase the WEN 2305 Rotary Tool Kit.
Felt Polishing Wheels
High-Speed Cutters
Grinding Stones
Sanding Discs
Cut-Off Wheels
Dressing Stone
Sander Bands
Drum Sander
Mandrels
Drill Bits
Collets
Bit-Changing Spanner Wrench
When you get the WEN Rotary Tool the possibilities are endless, limited only by your imagination and creativity. Including and equipped with over 80 accessories, this package provides quite a wide variety of bits and discs to meet the needs of any rotary tool project.
With the variable speed ranges from 8,000 to 30,000 RPM and adjustments at the simple turn of a knob, you will have no problems making and fixing multiple projects. The lightweight WEN 2305 allows you to make intricate designs easy to execute, giving you the capability to carve small and complex designs into glass, plastic, wood, steel, and more.
---
What Is The Best Rotary Tool For Wood Carving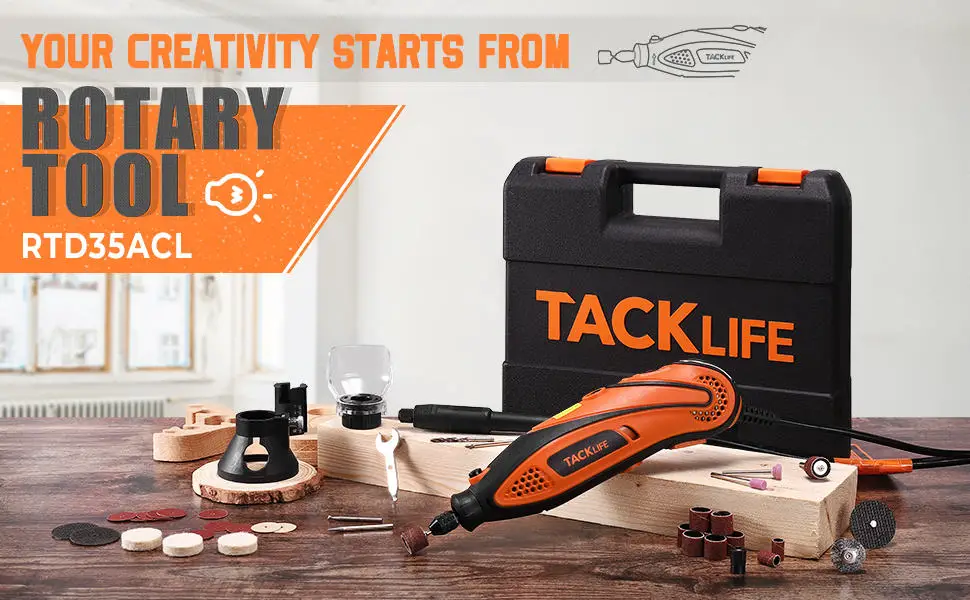 When you consider carving into the wood there are several solutions and tools you can use. One of them is hand carving tools. Another is a tool that will speed up the process and also provide you with many options with the same tool as opposed to purchasing many different tools.
Our pick for the best rotary tool for wood carving is the Tacklife Rotary Tool Kit.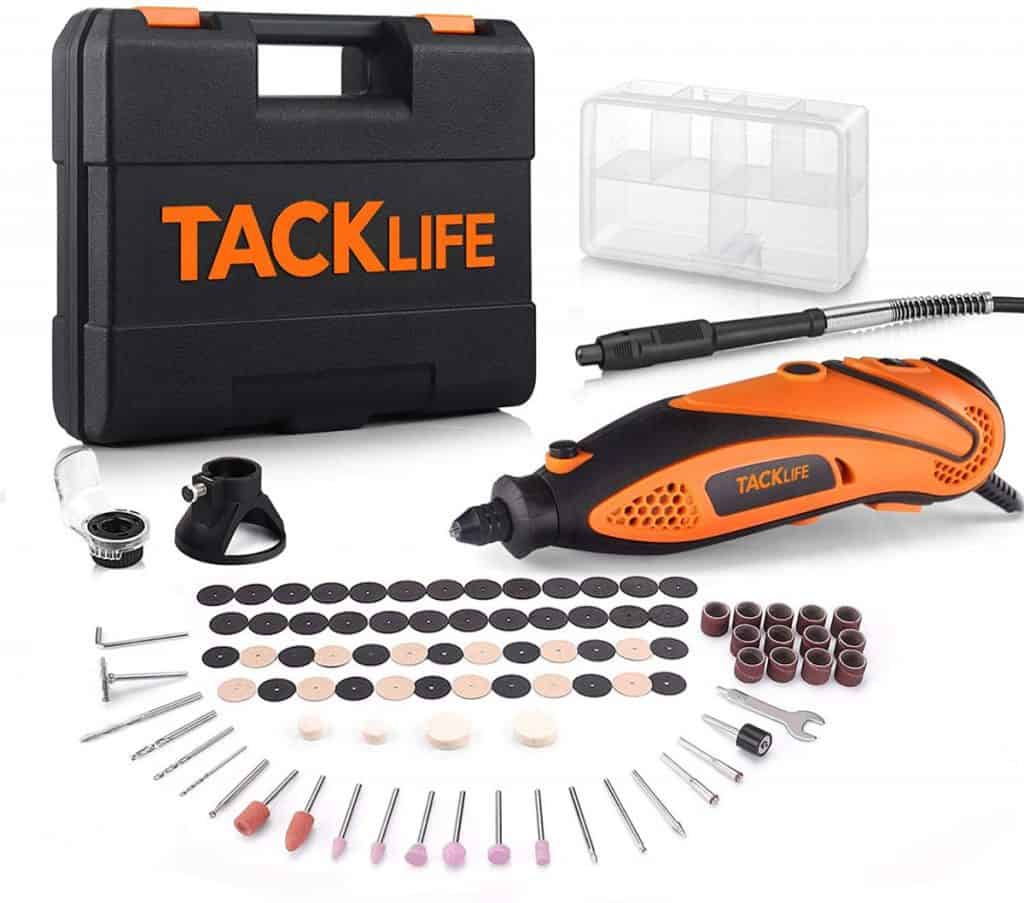 The Tacklife Rotary Tool Kit is flexible, powerful, and cost-friendly coming in at under $40.00. Looking at all of the considerations this rotary tool provides the best capabilities for the money you pay. What are the considerations you want to look at which the Tacklife definitely fills?
Upgraded Universal Drill Chuck: Our rotary tool kit equips with 2.0 keyless chuck which applies more convenient accessories change. It's lighter, more durable and compact. You can feel better concentricity while you using the chuck to fix accessories. The universal keyless chuck accepts all size accessories ranging from 1/8" to 1/32". It will help you save many inconvenience of replacing accessories.
Multipurpose Accessories: Versatile accessories covers various application ranging from cutting, engraving, drilling, sanding, polishing and even grinding pets' nails. And there are more applications and project waiting for you to discover.
Excellent Performance : The high-performance rotary tool has powerful motor providing strong rotational power with lower noise making. 6 levels speed shift ranging from 10,000 rpm to 32,000 rpm makes your DIY project easily conduct.
Comfortable operation: The product is lightweight and convenient. Ergonomic design with over mold allows long-time working be more relaxing and cozy.
---
---
Cutting – It is designed to cut at a 90-degree angle with a cutting wheel accessory attached.
Roughing – With a wood-eating accessory that attaches to the rotary tool called a burr bit; it has exaggerated rough edges, ridges, and they come in different shapes (cylinder, cone) which make it very easy to use on any wood.
Shaping – When you want to add detail to your wood project, utilize different size bits. Larger for removal of more wood material and smaller for more detailed removal.
Sanding – Sanding your carved detailed wood project can be challenging, not with this tool. The sanding attachments make it easy to get down to the smallest sanding efforts and utilize multiple grits.
If you would like to purchase Tack Life Rotary Tool Kit and accessories you can see the tools available from Amazon here.
---