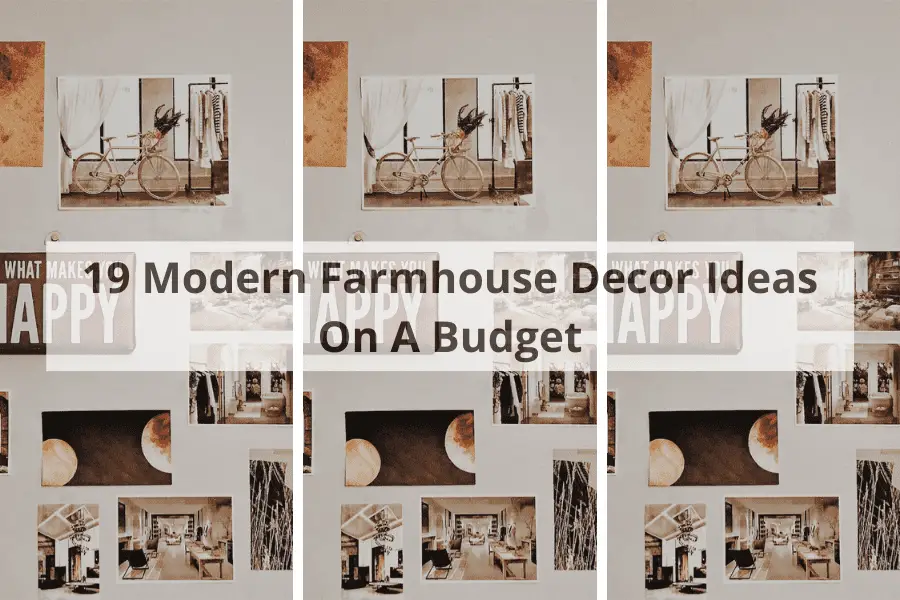 The farmhouse style is a great way to bring the country look into your home without having all of its rustic, outdated details. This type of decor features cleaner colors and more contemporary designs with white or light neutral backgrounds that can be used in any room but would work best as an entranceway because it offers just enough background noise.
*This post is about modern farmhouse decor ideas
What Is Farmhouse Decor
There's something about the modern farmhouse style that just makes us feel at home and this type of design is incredibly practical. Maybe it's the warm and welcoming palette of colors or the focus on family and friends. Whatever the reason, we just can't get enough of this cozy style.
A lot goes into selecting furniture pieces when creating this particular ambiance – things like using reclaimed wood from old barns (or even secondhand stores), pottery atop tables made out of plastic bins beneath where you'll find baskets filled
WE KNOW YOU WILL LOVE THESE!
If you're looking to add a touch of modern farmhouse style to your home, here are some key elements to look for:
– A modern farmhouse color palette typically includes earth tones, neutrals like white, cream, and brown, as well as pops of black, green, and blue.
– Modern farmhouse-style furniture is often rustic and reclaimed, with a focus on natural materials.
– Decor items should have simple and understated, with a focus on functionality and clean lines.
– Think of cozy fabrics like flannel, linen, and wool.
Bring Farmhouse Decor To Your Home Or Apartment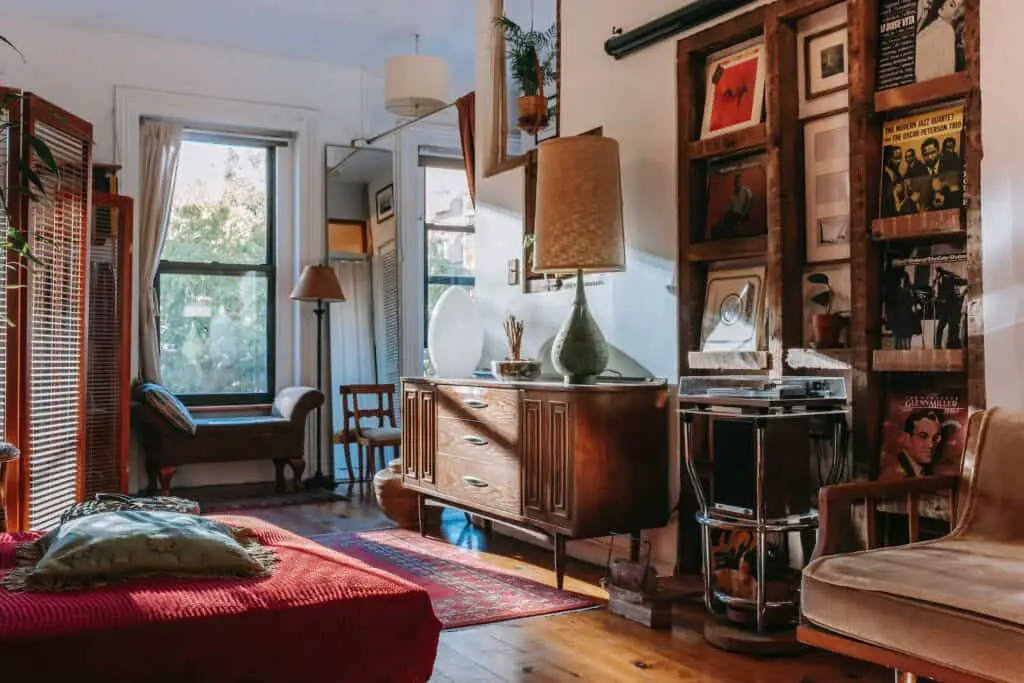 If you're looking to bring a bit of modern farmhouse inspiration into your home or apartment, there are a few key elements you'll want to include. First, look for pieces that are both functional and stylish. Farmhouses were all about practicality, so find furniture and decor items that serve a purpose but also look great.
Next, focus on natural materials. Farmhouses were typically built with whatever materials were readily available, so wood, stone, and metal are all good choices. Incorporate these materials into your modern farmhouse design in as many ways as possible.
Finally, don't forget the small details. Little touches like vintage-inspired accessories or rustic wall decor can make all the difference in creating a modern farmhouse look.
---
Add Farmhouse Character with Shiplap
Although shiplap has remained restricted at times to utilitarian buildings such as barns or outhouses, the style of rough-hewn timber slats has become an important part of farmhouse interiors. Modernize this design using simple furniture in crisp, neutral colors. The modern farmhouse living room or space is filled with bright blue pillows and patterned rugs to avoid a bland appearance.
* For more information on Shiplap – Check out "Shiplap Wall Paper – The Look Without The Cost"
Mix In Hand-stitched Farmhouse Style
Quilts can be found almost everywhere in quaint farming shops or antique shops and make sure to get one for the modern farmhouse bedrooms. Make these decorative items look contemporary by choosing fabric quilts or blankets in vibrant hues instead of painterly flowers painted. Pare off all other décors so it shines as a focal point.
Mixed Metals
The modern farmhouse style never used matchy matching and modern architecture combines metal mixed textures for a more livable look. You could use a metal mount to support the sliding barn door, chrome encases lighting and chrome covers appliance surfaces despite being intentional with the consistent shine seen across it.
Sliding Barn Doors
Among the design techniques which have helped to push farmhouse furniture into the mainstream, the focus is sliding barn doors. It is practical and stylish and is inspired by the farming roots of modern farmhouse architecture. Outfit a barn door with modern x-shape molding and bright white paint.
Primary Bathroom
A classic modern farmhouse bathroom makes use of salvaged or repurposed materials like an antique dresser turned into a bathroom vanity. Hang a metal sign over the sink and place mason jars filled with cotton balls on top of the dresser for decoration.
Add Reclaimed Modern Farmhouse Decor
Nothing is more exciting than examining dusty objects from a reconstructed farmhouse. Instead of putting your old farmhouse furniture on the floor where you expected it, consider changing the purpose. Utilize bottles that have been adapted to become contemporary lighting fixtures in a new light.
Include Industrial Accents
Industrial design mainly relies on raw finishes. But when combined with antique signage, wall art, and delicate fabrics it looks decidedly farmhouse. You can make your rustic industrial decor more contemporary by choosing bright colors and saturated colors.
Playful Wood-Tone Pairings
Although raw woods have not necessarily changed the landscape of farms, wide tonal variations are considered. Try incorporating every color palette – from ultralight to dark oak to ebony into your room. Wood grain complements each other in color.
Provide A Farmhouse Table Facelift
Throughout the years, farm tables served as a meeting space. Nevertheless, old table-top rustics were given a facelift, including new chairs instead have elegant seating and smaller, streamlined benches.
Bedroom Accents
Getting the bedroom a nice and clean feel takes many efforts. Since about half the world's lives are sleeping, the bed is very important! Setting a tranquil ambiance requires great care.
If you would like a farmhouse style bedroom for your bedroom ensure you look at items such as wooden headboards rustic nightstands to shiplap wall designs there are numerous styles to combine into creating an amazing farmhouse room.
Living Room
Your living room is where you spend most of your time at home. It should be comfortable and reflect your personal style.
If you're looking to update your living room with modern farmhouse style, start by adding a few key pieces, like a cozy sofa or coffee table. Then, accessorize with rustic accents like metal lanterns or a jute rug.
Kitchen
If you love to cook, then you know the kitchen is the heart of the home. And if you're looking to update your kitchen with modern farmhouse decor, there are a few key pieces you'll need, like a farmhouse sink, stainless steel appliances, and hanging pots and pans.
Then, accessorize with modern farmhouse staples like open shelving and mason jars. With a few simple updates, you can modernize your kitchen and give it a fresh, farmhouse feel.
Dining Room
The dining room is the perfect place to entertain family and friends. And if you're looking to update your dining room with modern farmhouse decor, there are a few key pieces you'll need, like a farmhouse table and chairs.
Then, accessorize with modern farmhouse staples like a jute rug and metal lanterns. With a few simple updates, you can modernize your dining room and give it a fresh, farmhouse feel.
Exposed Brick
If you're lucky enough to have exposed brick in your home, don't be afraid to show it off. This modern farmhouse living room features an exposed brick wall that adds a touch of industrial chic. Paired with neutral furnishings and accents, the look is clean and modern.
Exposed Beams
Another popular feature in modern farmhouse homes is wood beams. Wood beams add a touch of rustic charm and visual interest. Paired with modern furniture and decor, the space feels warm and inviting.
Barndoor Headboard
For a unique take on the modern farmhouse-style bedroom, try using a barndoor headboard in your bedroom. This headboard adds a touch of rustic charm and can be easily made DIY. Paired with neutral bedding and decor, the look is modern and chic.
Farmhouse Sink
A farmhouse sink is a must-have in any modern farmhouse style and home. This sink is practical and stylish and can be easily incorporated into any kitchen design. Paired with modern appliances and fixtures, the look is both contemporary and timeless.
Include Antique Signage For Comfort
Take a moment to think about this bright white room without the green accents and handwritten signs. It's stylish and modern but not cozy! Adding some accent colors to a dark-colored foundation and this charming sign is designed to give it a rustic, rural feel.
Oversized Pendants Provide Light In The Farmhouse Way
One may assume that adding the homey feel would be challenging. Definitely reconsider it now.! A simple way to add a fresh farmhouse style into a modern kitchen is to incorporate natural wood, flowers, or large pendant lights.
Frequently Asked Questions
What Is The Modern Farmhouse Style?
Modern farmhouse style resembles the country style and uses white or lighter neutral hues for a cleaner, more contemporary look. The two styles utilize reclaimed wood, pottery, metal, and baskets in decorating.
How Do I Incorporate Modern Farmhouse Style Into My Home?
Some ways to incorporate modern farmhouse style into your home are to use white or light neutral hues, to use reclaimed wood, pottery, metal, and baskets in your decor, and to add pendant lights.
Is Modern Farmhouse Going Out Of Style?
Trends are moving targets without set starting or end dates. Modern farmhouses have remained unchanged since then. Many aspects are likely to continue in popularity over the years to come and influence the next major trend.
What Is The Difference Between Farmhouse Style And Modern Farmhouse Decor?
The modern farmhouse style is leaning toward the maxima sensibility, while the classic farmhouse style is more minimalist and is compatible with contemporary interior design. The traditional farmhouse aesthetic takes it literally with barn door designs, shiplap walls, and faux-rural accessory designs.