For several years, the handmade and homemade crafts industry has grown from just a small, niche community to an entire industry. If you have been taking part in your own woodworking projects, you may want to learn about what options are "out there" to make some money off your craft. The good news is – there are a lot of options to choose from.
The best places to sell your woodworking projects are those that give you plenty of exposure and have a built-in audience. After considering the important factors to find a selling platform, try some of the top options, such as Etsy, Amazon Handmade, Craigslist, or you can build your own website.
Now, let's dive deeper into what to consider when choosing a platform for selling your woodworking projects. We'll then list some of the top available options you can choose from. Read on.
---
Tips for Choosing the Right Selling Method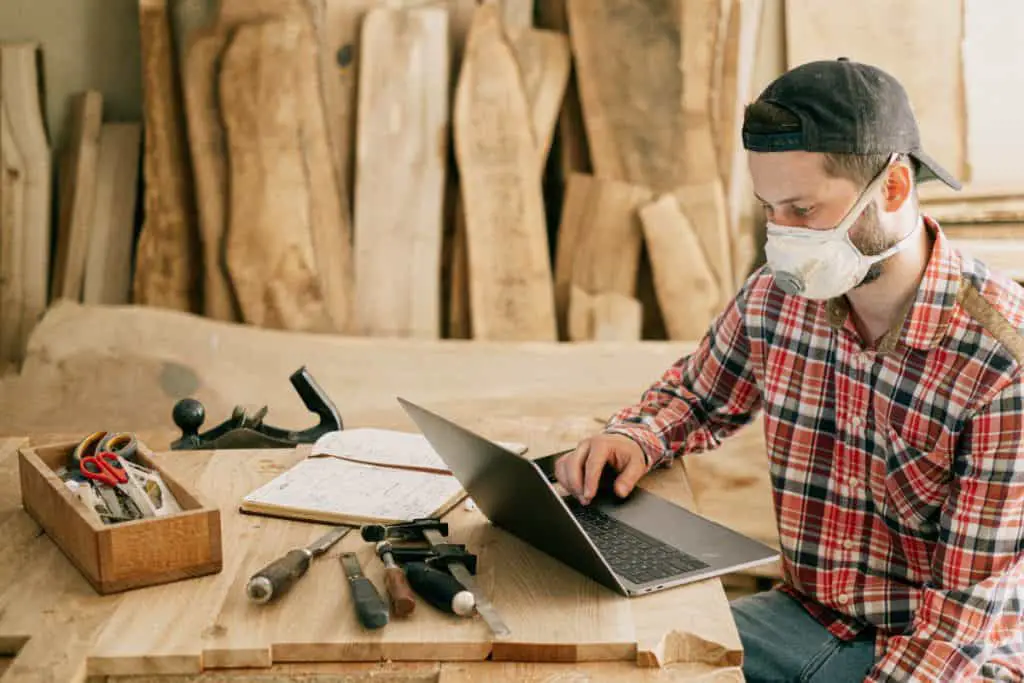 Before you begin looking at the various options for selling your woodworking projects, you need to figure out what will work best with the items you have created. Some tips that will help you with that are found here.
GREAT GIFT IDEAS!
Knowing what to expect and what to consider will help you decide where to showcase your handmade items and have the best chance of selling them successfully. With the right considerations, you will maximize your exposure while minimizing what you have to spend to sell. 
---
Determine Your Niche in the Woodworking Industry
When you determine your target niche, it means you are getting more specific about what you want to make and sell. The more specific you are, the more you can narrow down where you should sell.
While you may have dozens of woodworking skills, and there is probably nothing you cannot build, you need to limit yourself. Focusing on one item or a few items may seem like you will not make much money; this is not the case.
The idea behind discovering your niche is this – you find an item or two in high demand and sell more of them. Make sure you take time to research what people are buying before selecting what you want to focus on. You can also ask your customers for their feedback, which may help you narrow down your specific niche even further.
Determine Your Budget
When trying to figure out where you are going to sell your woodworking creations, you need to consider the costs of selling on different platforms or at various locations. For example, if you sell online, you may have listing fees and shipping costs. However, if you want to sell to people in person at craft fairs, you need to consider the cost of the booth rental, travel costs, and taking your projects with you.
It would help if you also consider advertising costs when selling your work. After all, if no one knows about what you make, they will not buy it. Be sure to consider how much it will cost to advertise your items and even consider free methods of spreading the word, such as Facebook. Remember, word of mouth is still a powerful source of motivation when it comes to selling something.
It is important to choose a platform or location that is within your budget. By knowing what you can spend on selling your items, you can avoid options that are too high priced.
Now that you have a few tips on finding the right location for selling your woodworking projects, it is time to learn about the best options. Here are some of the top one's available today.
---
1. Etsy
Etsy is an online storefront that is made by thousands of small businesses offering homemade products. You can look at it as an online craft fair.
This site was originally launched in 2005. Today, it is considered a go-to option for all types of hobbyists trying to sell their creations. You can find crafts from all kinds of materials, and even after being around for 13 years, the site is still growing when it comes to popularity. As of 2019, over 2.5 million people were selling goods on Etsy, and there were around 39 million active buyers – this is a huge audience to tap into.
If you choose to sell on Etsy, you will find the site does a good job keeping up with the latest trends. The mobile site is user-friendly, and about 66% of all traffic comes from the mobile app.
While the numbers above are impressive, you need to remember there is a lot of competition on Etsy. Many people on the site will even try to replicate products that are selling well and then sell it for a lower price than you. Also, Etsy charges you to list things for sale. The site charges 20 cents for each listing and then 3.5% of every item you sell. However, there are no monthly fees, which many sellers find appealing.
Once you start selling on Etsy, you will have options to pay for more exposure and find some free advertising options.
The biggest benefits of using Etsy include a user-friendly site for sellers and buyers and the fact that it comes with a built-in, ready-to-buy audience. However, the downsides are that there is a lot of competition and starting on the site can be challenging.
---
2. Amazon Handmade
With all the success Etsy experienced in a short amount of time, Amazon created Amazon Handmade in 2015 to compete. You can find this part of the site by visiting Amazon's main page and look under "Departments." To begin listing your products here, you must apply for an account and ensure your products meet the site's expectations.
One of the best parts of this program is that you can ship your items to the Amazon facility, making them eligible for Amazon Prime shipping. While Amazon does charge more for this higher level of service, customers are also more willing to pay a little more if they get two-day shipping.
The monthly fee for using this program is $40, and you will pay approximately 12% in sales commissions. The extra cost is justifiable for some since you have an audience of up to 112 million customers.
If you choose to sell on Amazon Handmade, you have a huge customer base, and your product seems more credible since it is attached to the Amazon name. Unfortunately, there is an application process, and not everyone will be approved. Also, the costs are higher than some of the other options.
---
3. Craigslist
Did you know that Craigslist has been around since 1995? The site was created after people realized they could easily sell and buy goods online locally if it did not make sense to ship it. Recently, Craigslist has lost some of the appeal that made it so popular in the beginning, for a few reasons. For example, there is a safety issue related to using this site, and many buyers do not ever complete the transaction.
While this is true, if your budget is limited (or non-existent), this may be a viable option. Millions of people are still using this site every day. Also, it is completely free. You can create and post limitless ads, and there is no cost if you sell something.
If you have never visited Craigslist before, it is simple to use. The key to ensuring you have a good listing and that potential customers see it is by making sure you take plenty of photos and be as descriptive as you can about what you are selling. You can upload up to 12 images per listing – you should use every photo slot you have.
---
4. On Consignment at a Store
Selling something on consignment is like renting a booth at an antique store, but without the ongoing commitment of having to sign a lease. With this selling option, you agree to have your pieces displayed in the store. When and if your items sell, the store takes a percentage.
Since you do not pay rent or pay any other fees, the commissions the store keeps are typically higher than some of the other options on the list. On average, you can expect to pay between 30% and 50% in commissions.
---
5. Craft Shows and Flea Markets
If you want to get your products out to the masses as quickly as you can, craft shows offer a good way to do this. If you are more ambitious and live in a relatively populated area, you can probably find a craft show or flea market to sell at every weekend.
A craft show is a great way to discover what potential customers like or dislike about the products you have made. If you decide to work your booth, you will probably interact and talk to potential customers throughout the day. Selling at these events is also a good way to determine if you have priced your items correctly or if there are changes you could make to help your products sell even better.
Preparation
There is a lot of preparation needed before you arrive at a show or event. A few weeks before the show:
You must decide what products you will offer for sale.
You also have to determine how your products will be displayed.
Do you need to build a display board or box? Will you use tables?
Are electrical outlets required?
You have to decide on all this before the date of the event.
It may also be smart to create a "test booth" a few weeks before your show. You will get the dimensions of your booth size when you sign up for the show, so it is a good idea to use this to create your test booth and ensure you fill it well while still providing room for foot traffic. After creating the perfect setup, take plenty of pictures so you will be able to replicate it at the show.
The cost of participating in one of these shows will be based on the size of the booth you choose. However, this is typically the only fee you will pay, which makes the possibility of making profits high.
---
6. Facebook
Facebook is often referred to as the social media giant. With more than 2.7 billion active users, it is easy to see why it got this nickname. It means that approximately one-third of the world's population is signing into their Facebook account a minimum of one time per month.
In the past few years, Facebook has taken several steps to expand what you can do on this platform. Now, some features help bring sellers and buyers together, which is called the Facebook Marketplace. With this feature, you can sell items in your local area. One of the best things about using this platform is that the Marketplace is tied to your Facebook profile, which is not offered by selling sites like Craigslist.
Thanks to this feature, most buyers and sellers feel safer when making a transaction. You can also buy ads through Facebook to help promote your listings in locations that are further away. Keep in mind that if you choose to do this, you must be able to ship your items. Some woodworking pieces are large and heavy, so if this is not possible, staying local is a must.
Basic Facebook is free for you to use; however, there are options to advertise what you are trying to sell, which do come at a premium.
---
7. Instagram
Similar to Facebook, you can also sell products on Instagram. While this site is most popular for posting photos and selfies, Instagram is multifaceted. With more than one billion users each month, it makes sense that people would eventually begin selling via Instagram.
If you decide to use this site for selling, you will have a few options.
The first is to take quality pictures of what you are selling and use the provided Instagram filters. Enter a good description and make your items as appealing as you can.
The next step is the most important – you need to add as many hashtags as you can think of that are relevant to what you are selling.
After you have typed the hashtag (#) and start typing a few letters, Instagram will make recommendations based on what you have typed. They will also show you the number of photos that have used the same tag. Try to choose the tags that have the highest numbers. When someone searches on Instagram using that hashtag, your post or photo will show up.
You can accept payments through the Instagram platform via PayPal, but a 3% fee will be applied to all money coming into your PayPal account.
---
8. Bonanza
On Bonanza, you can sell any handmade craft, including woodworking projects. All you have to do is list your products and then get them published in the main buying channels such as Google Shopping.
You can also find stores that are built from user's listings.
---
9. Dawanda
If you want to join a worldwide community of crafters and artisans, then Dawanda is a good option. Here you can sign up for an account, create a collection of products, and begin selling.
Even better, you can interact with other sellers by leaving comments and joining in on various discussions.
---
10. Build a Website
Launching a website is a smart option when you are first starting out. If you decide to go to a craft show, it is good to have a Facebook page or webpage dedicated to what you make and sell.
It will not be possible to bring everything you have created to the show with you. You want individuals to leave your booth with your web address so they can see the other products you offer.
Unfortunately, building your site can be difficult; however, there are ways to make it easier, such as using sites like Shopify.com, which offers templates for you to create your own ecommerce site. If you do not have web design experience, this is probably the best option to consider. The cost you will pay is dependent on how you go about creating a website. As mentioned before, Facebook is free, so starting with a business page here may be a smart move.
Final Thoughts
There are several options when you start looking for the right platform or method to sell your homemade or handmade woodworking projects. It would help if you considered the things mentioned above to find a platform that will highlight your products while staying within your budget.
Starting with some of the free options may be a good move at first, and as your business grows, you can change to the paid methods. In the long run, combining these selling methods may help you achieve the most success, so switch things up and see what works best for you and your products. Being informed and knowing what to look for are the best ways to ensure the desired results are achieved.